Kate Middleton Got In The Middle Of Prince Harry And Prince William As A 'Peacemaker'
Kate Middleton is said to be caught in the middle of the increasing drama within the British royal family. As Meghan Markle and Prince Harry attempt to depart from their senior royal duties, tensions are reportedly rising between brothers Harry and Prince William -- something that has forced the Duchess of Cambridge to take upon a sort of role of "peacemaker."
Katie Nicholl, a royal expert, told Entertainment Tonight that Middleton, Harry, and William were once a very special "trio." But given all the drama that surrounds Markle and Harry's marriage and role departure, Middleton has worked hard to keep relationships tight. It was also revealed that the children of the two royal Princes have only seen each other "a handful of times."
"...I think everyone's hoping that they can move on from this difficult period, put the warring behind them and actually allow for the royal cousins when they are together at least in the same country, to actually get to spend some quality time together," Nicholl said.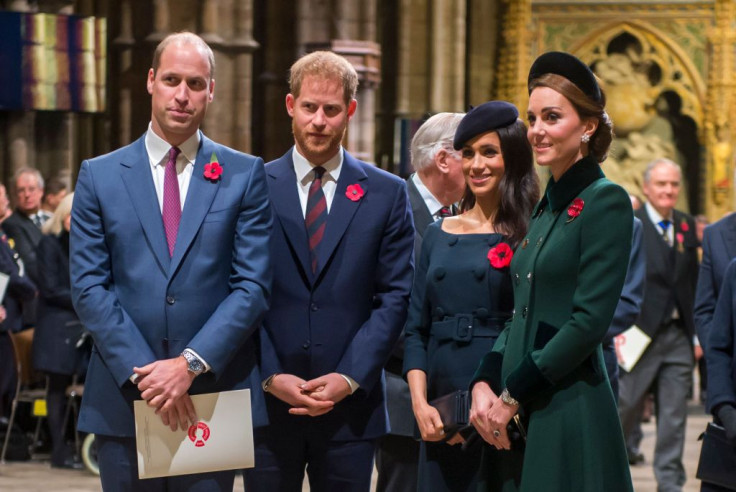 Prince William recently gave a speech in Bradford, England, in which he hinted at the drama between him and his brother, according to Express. While he was speaking about the relationship between the Christian and Muslim communities in Bradford, Daily Mirror royal editor Russell Myers claimed that William was apparently commenting on the cohesion of different cultures within his own family, stating he had "one eye" on the drama that was unfolding with Megxit.
"It's sometimes trying to get people to understand that's it's OK to have these challenges," the Duke of Cambridge stated. "We just need to deal with them and we need to move forward rather than just be stuck in paralysis."
Speaking to ET, Nicholl stated that Prince William was "devastated" by the news that Harry and Markle were dropping out of their royal duties and that he feels a sense of betrayal. All reports suggest that Middleton is doing her best to keep the royal family members on good terms.
© Copyright IBTimes 2023. All rights reserved.