Kate Middleton Joining Queen, Camilla In Balcony But Not Meghan Markle Explained
Kate Middleton, Camilla Parker Bowles and Queen Elizabeth II stood on the same balcony during Remembrance Day while Meghan Markle was is another one. But this doesn't mean the former actress is on outs with the three other female royals.
A number of royal fans noticed something add on Sunday's Remembrance Day. The Queen, Duchess of Cornwall and Duchess of Cambridge stood in the same balcony without Markle. The Duchess of Sussex was photographed in a different veranda with German President Frank-Walter Steinmeier's wife Elke Budenbender.
"Is she is on a different balcony because of the supposed incident with the Queen? I don't think so. I have see her on a trip, on a a balcony, etc with the Queen since then. Plus the balconies look tiny. If Camilla can stand with the Queen so can Meghan," one fan wrote on Twitter.
According to People, although Markle was standing in a different balcony, it didn't mean that she was slighted. In fact, there was a reason behind their positions and it's not about the size of the balcony.
The publication noted that the royals arrange themselves according to a "pecking order." Camilla and Middleton were wives of the next kings.
Also, the arrangement is visible when Markle made her Trooping the Colour debut. The former "Suits" star wasn't front and center on the palace balcony. Instead, she stood behind the Duke and Duchess of Cambridge.
In related news, now that Markle is expecting her first baby with Prince William, many are wondering if she will follow Middleton's maternity style. The royal mom of three looked chic and fab in all of her three pregnancies. According to a fashion blogger, Markle will likely have her own style.
"Meghan and Kate have very different tastes in fashion," Christine Ross said. "Meghan's maternity style will really stay true to the elegant, clean lines and simple cuts that she has always preferred, but allowing extra room through tailoring as her body changes."
"By contrast, Kate seemed to quickly embrace the empire and maternity waistlines, which are very flattering and accentuate a growing bump," she added."Kate loves her country look.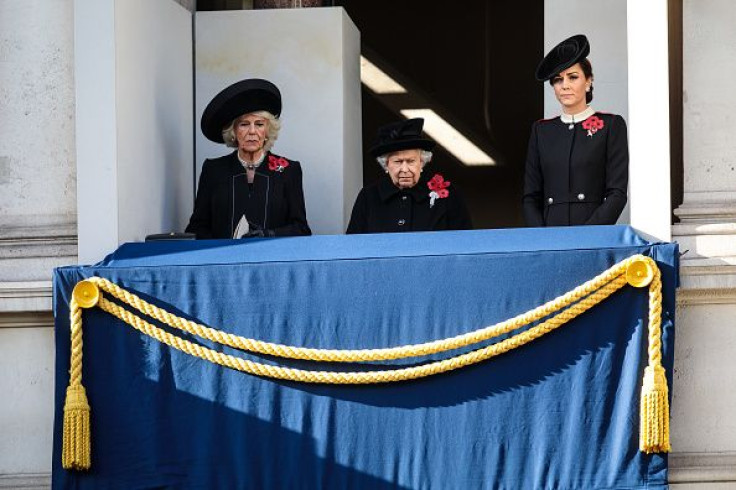 © Copyright IBTimes 2022. All rights reserved.
FOLLOW MORE IBT NEWS ON THE BELOW CHANNELS