Kate Middleton Is Morphing Into Queen Elizabeth II Based On These Photos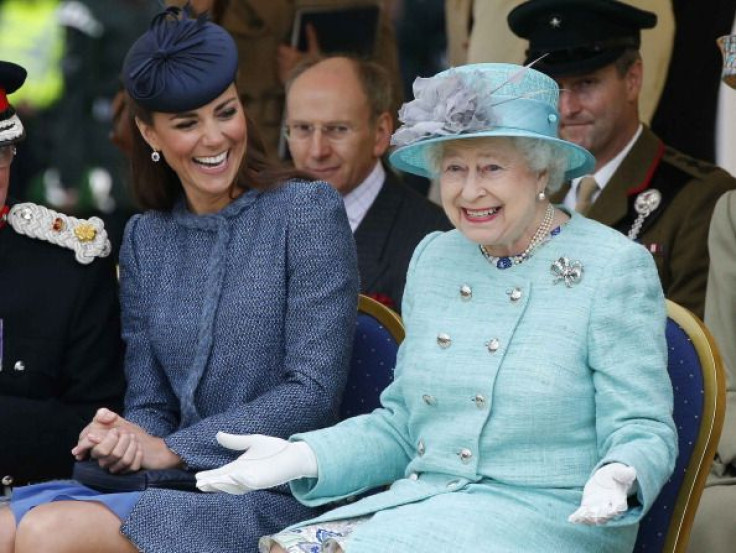 Kate Middleton seems to be morphing into Queen Elizabeth II and not because she hopes to earn the prestigious title one day.
On Thursday, Express released two photos of Middleton and Queen Elizabeth II wearing similar outfits. In the first photo, Middleton is wearing a blue and white floral dress that accentuates her slim waist. In her picture, the queen is wearing a white long-sleeved coat and a white and blue floral dress that looks just like what Middleton's is also wearing.
In the second side by side photo, both Middleton and Queen Elizabeth II are wearing plaid coats and headdresses, but in different colors. The two female members of the royal family are also wearing black stockings to keep their legs and feet warm.
Middleton and Queen Elizabeth II also tend to wear brighter shades of clothing. In the documentary "The Queen at 90," Sophie, Countess of Wessex, revealed why the queen typically wears bold colors during her public engagements.
"Don't forget that when she turns up somewhere, the crowds are two, three, four, 10, 15 deep, and someone wants to be able to say they saw a bit of the Queen's hat as she went past. She needs to stand out for people to be able to say, 'I saw the Queen,'" she said.
Meanwhile, Middleton and Queen Elizabeth II are not only similar based on their choices of clothing. They also have the same taste when it comes to their accessories.
Middleton was photographed wearing a four-strand diamond-and-pearl choker that she borrowed from the queen. The same necklace was used by Princess Diana when she attended a banquet in 1982. A year later, Queen Elizabeth II was photographed wearing the same accessory when she attended an engagement in Bangladesh, according to Entertainment Tonight.
And on Christmas Day, Middleton did not have a hard time picking a homemade gift for the queen because they have similar tastes. The 36-year-old Duchess of Cambridge told BBC (via Elle UK) that she gave the queen her grandmother's recipe of chutney, and she loved it.
"I was slightly worried about it, but I noticed the next day it was on the table," she said.
© Copyright IBTimes 2023. All rights reserved.