Keith Urban On How Wife Nicole Kidman Helped Him Through His Alcohol Addiction Struggles
KEY POINTS
Keith Urban said he grew up with an alcoholic father but had found it difficult to accept that he had the same problem
He realized he had to "find a different way to be in the world" after marrying Nicole Kidman
Urban honored his wife in his ballad "Thank You"
Keith Urban is getting candid about his struggles with addiction and how his wife Nicole Kidman helped him during his journey to recovery.
The 54-year-old country star, who has been open about his struggles with addiction to alcohol and cocaine, shared during a new interview with U.K.'s The Times that multiple stints in rehab and the encouragement of his wife of his nearly 16 years helped him get sober.
"Everyone does what they want to do to have a great time. I just realized I'm allergic to it. Someone said, 'You have an allergy? What happens when you drink?' And I said, 'I break out in cuffs,'" Urban joked.
The singer said he grew up with an alcoholic father and witnessed what alcoholism could do to a family. However, he admitted that he'd found it difficult to accept that he had the same problem, saying in a previous interview, "I didn't drink like my dad, so I compared everything to him."
"My dad was an alcoholic, so I grew up in an alcoholic house and it took me a long time to believe I was wired the same," Urban recently told The Times.
After marrying Kidman, the "Blue Ain't Your Color" singer shared that he realized he had to "find a different way to be in the world." He added that he was thankful his addiction problems never affected his music creation, saying he wrote plenty of songs regardless of whether he was drunk or sober.
"I feel lucky it hasn't defined my creativity," he said.
Kidman helped him address his addiction problems just months after they tied the knot in 2006. She had him check into the Betty Ford Center in Rancho Mirage, California, in October that year.
The new chapter of Urban's life began after his rehab stint, prompting him to honor his wife in his ballad "Thank You." The song features lyrics like "I thank you for my life."
When asked if he plays his songs for Kidman before singing them to anyone else, Urban said that his family is the first to hear his music because his studio is at their home. He is also aware of Kidman's projects because he sees the "scripts lying around."
However, the singer said he doesn't specifically seek his wife's approval when it comes to his music.
"I've learned the way I feel playing a song for someone is more important than their reaction," Urban explained. "Sometimes I've really loved a song until I've played it to the person. Then I suddenly did not feel good about it."
Kidman, who shares daughters Faith, 10, and Sunday, 13, with Urban, has made it clear that the support goes both ways in their marriage.
At the 2022 Oscars last month, Urban flew in right after performing so that he could be on the red carpet with his wife, who was nominated for best actress for her performance in "Being the Ricardos."
"I'm just so happy to be here," Kidman told E! News, noting that she was particularly excited to be at the awards show with her country singer husband, "who was playing Vegas last night and flew in and landed at 1 a.m. Whatever it takes!"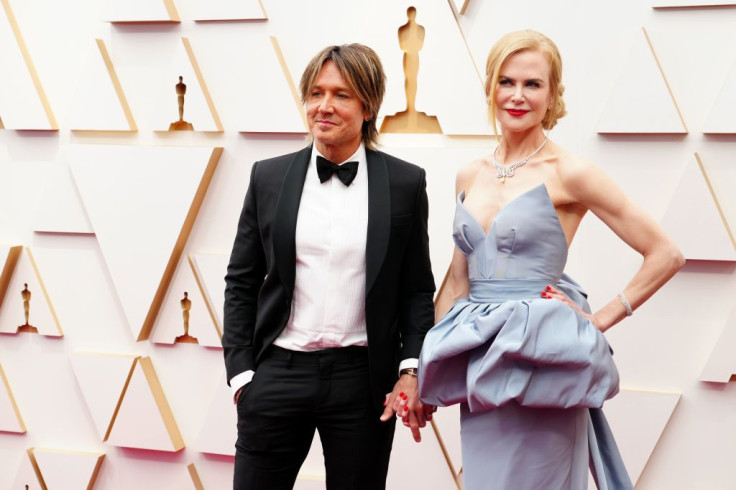 © Copyright IBTimes 2022. All rights reserved.
FOLLOW MORE IBT NEWS ON THE BELOW CHANNELS