Kenyan shilling fall vs dollar, stocks slide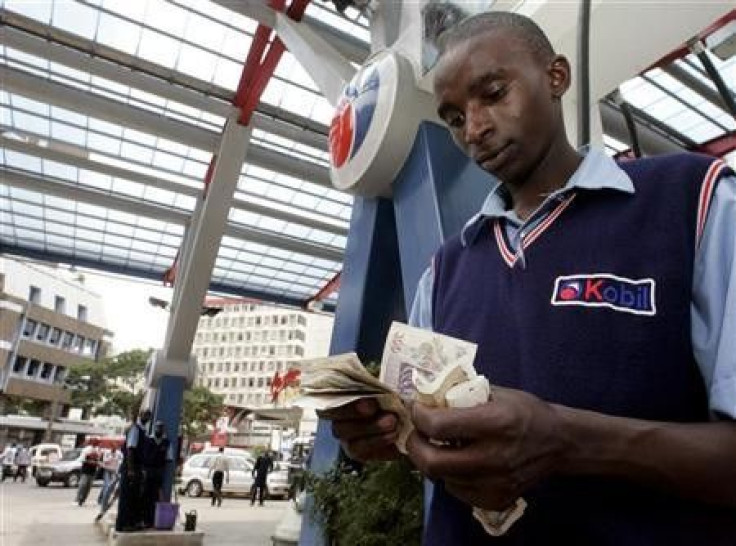 The Kenyan shilling fell nearly one percent against the dollar on Monday on dollar demand from energy sector importers and the interbank market, while stocks were marginally lower as foreign investors sold on global risk aversion.
Traders said the market was watching out for a central bank monetary policy meeting on Wednesday -- its second in four weeks -- at which analysts expect the monetary authority to raise the benchmark interest rate in order to stem the shilling's weakness.
The central bank said last week it planned to trade foreign currency directly with key economic sectors, a move that helped lift the shilling off a record low of 104.15.
CBK Governor Njuguna Ndung'u, however, assured markets the bank was committed to a floating exchange rate and stressed he was not contemplating capital controls.
At the 1300 GMT close of market, leading commercial banks quoted the shilling at 101.20/40 against the dollar, 0.84 percent weaker than Friday's close of 100.20/40.
We have seen some interbank plays. It still looks fuzzy for the shilling and it may maintain a bearish trend for now, said Duncan Kinuthia, head of trading at Commercial Bank of Africa.
The shilling is moving on global fears. But it might get some respite from the MPC decision.
All 12 analysts polled by Reuters expect the central bank to raise rates from the current 7 percent, with the median forecast split between 7.50 percent and 7.75 percent.
The market is also looking to a high-level committee set up by the prime minister's office to address the fall in the shilling with a view to announcing new, comprehensive measures this week.
They said escalating concerns about the euro zone's debt crisis was however likely to weigh on the shilling.
With the dollar gaining ground internationally as a safe haven currency we cannot rule out further shilling weakness as it tracks other emerging economies against the dollar, Bank of Africa said in a daily report to its clients.
In stocks, the benchmark NSE-20 Share Index extended its fall for an 11th straight session, down marginally by 0.09 percent to 3,280.96 to trade at its lowest since January 6 2010, as foreign investors, rattled by a volatile shilling and the global stocks rout, sold shares.
Looking at the volumes, we have seen heavy selling on the part of foreign investors more than the buying. We may still fall further, said Caleb Mutai, an analyst at Tsavo Securities.
This worrying trend is also due to the euro crisis. We hope that with a stable shilling we will see a turnaround in the index.
Shares in oil marketer KenolKobil fell 3.57 percent to 9.45 shillings a share as investors reacted to a profit warning by fellow listed oil marketing firm Total Kenya.
Total said it expects a sharp drop in its full year profit, citing higher interest rates, a weakening shilling and the limitations of price caps that were instituted in December last year.
The sentiment in the market is that Kenya Oil will also be affected since it operates in the same industry, said Mutai.
In fixed income, government bonds worth 2.52 billion shillings were traded, up from 1.45 billion shillings previously.
© Copyright Thomson Reuters 2023. All rights reserved.