Keystone Pipeline Veto Override Fails In Senate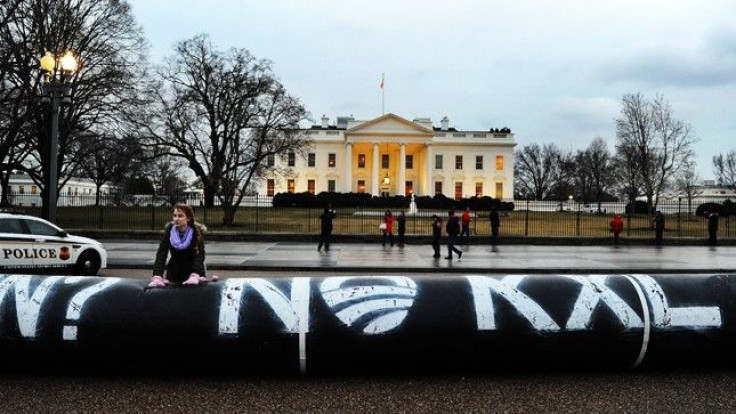 The GOP-controlled Senate failed to kill President Barack Obama's veto of a bill that would approve the Keystone XL oil pipeline Wednesday. It's the first time lawmakers have voted on overriding a veto from Obama and it's the president's first veto in the new Congress, with Republicans now at the helm of the House and Senate.
The Senate fell five votes short of the 67 votes or two-thirds majority needed to overrule a presidential veto. According to the Hill, eight Democratic senators broke with Obama and voted with their GOP colleagues: Heidi Heitkamp of North Dakota, Mark Warner of Virginia, Claire McCaskill of Missouri, Bob Casey of Pennsylvania, Michael Bennet of Colorado, Tom Carper of Delaware, Jon Tester of Montana and Joe Manchin of West Virginia.
Manchin reportedly said the United States eventually will have to find a way to bring the oil to the country. "This is going to come back," he told the Washington Times Wednesday.
The same eight Democrats also voted to approve the $8 billion project in January, when the measure passed in the Senate with 62 votes and in the House with 270 votes before meeting Obama's veto in the Oval Office. It's the third veto of his presidency but the most significant so far, the New York Times reported.
Obama vetoed the bill within hours of Republicans sending it to his desk. He said he rejected the bill not based on the Keystone XL pipeline itself, but because the measure would have removed his authority to make the final decision on the project. Republicans say Obama's delay is designed to kill the project altogether. "He's been studying for over six years – over six years – and he vetoed because we cut his review process short?" Sen. John Hoeven of North Dakota told the Washington Times Wednesday.
The proposed 1,179-mile pipeline would pump nearly 1 million barrels of carbon-heavy petroleum per day from the oil sands of Canada to ports and refineries on the Gulf Coast in Texas and Oklahoma. Supporters of the project said the pipeline will create more than 42,000 American jobs. Critics said the pipeline would have a minor impact on gas prices and a major impact on carbon pollution and climate change.
"At a time when we should be doing everything we can to promote the development of clean sources of energy, it would have been crazy to let a Canadian oil company ship some of the dirtiest oil on the planet across the United States," independent Sen. Bernie Sanders of Vermont said Wednesday, applauding Obama for rejecting the legislation and the Senate for sustaining the veto.
Ginger Gibson in Washington, D.C., contributed to this report.
© Copyright IBTimes 2023. All rights reserved.