Kickstarter Campaign Launched For New 'Crysis' Board Game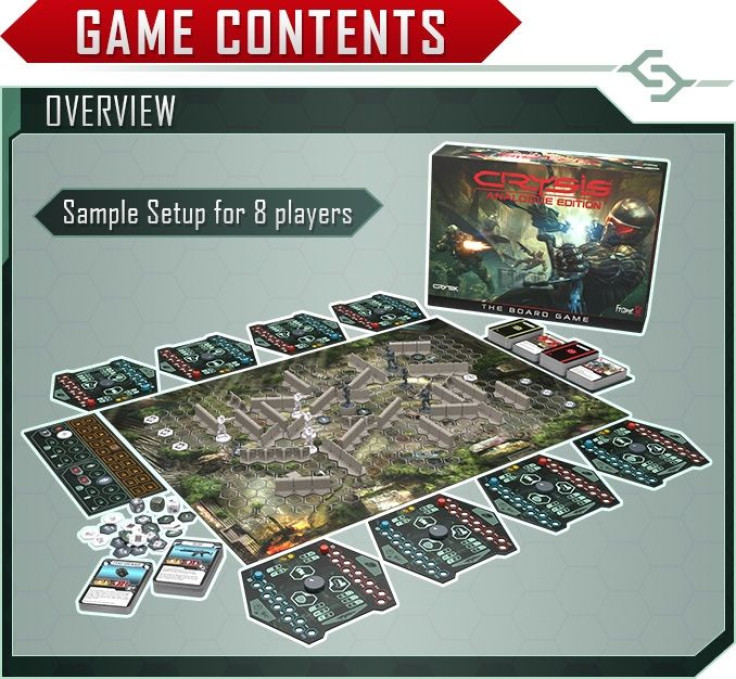 While other first-person shooter games like "Call of Duty" and "Battlefield" have had numerous sequels, it's a bit odd knowing that the "Crysis" games have had only three iterations, the last of which came out for last-generation consoles. Now, developer Frame6 seems to be feeling nostalgic, as the company has started a Kickstarter campaign to make a "Crysis" board game called "Crysis Analogue Edition: The Board Game."
According to the official Kickstarter page, "Crysis Analogue Edition" will be a competitive, tactical board game for two to eight players and will obviously be based on the popular first-person shooter. This isn't a simple fan project either, as Polygon has confirmed that developers of the "Crysis" games, Crytek, have given the team full permission to make the board game.
In addition to giving Frame6 permission to make the board game, Crytek has also helped the team out in a number of areas. According to Polygon, Crytek opened up visual source materials for the Frame6 to use for building some of the miniature figurines and making the maps for the board game.
The "Crysis" board game seems to be taking plenty of cues from the actual video game and trying to streamline those ideas into the board game. Players will be able to hide behind terrain, wear some nano-suits, reach supply crates and a whole lot more.
Training manuals will also come with the board game, so players will be able to immerse themselves in the rules. There will be a 16-page "Basic Combat Manual" and a 32-page "Field Manual" that probably has some advanced rules in it.
"Crysis" fans can make their pledges on Kickstarter right now and get various rewards and gifts from the team, depending on how much is given. Frame6 is hoping that the game will be fully funded by June 13.
Despite the game's popularity, it's currently unsure why there have been only three "Crysis" games so far. The original was considered a technical achievement on PC platforms and the sequel "Crysis 2" was also met with similar praise, but had the added benefit of being available to other consoles. "Crysis 3" also received positive praise from fans.
Contact the writer at parungonicolo@gmail.com.
© Copyright IBTimes 2022. All rights reserved.
FOLLOW MORE IBT NEWS ON THE BELOW CHANNELS