Kindle Wars: When Amazon Tab Comes, How Does Apple React?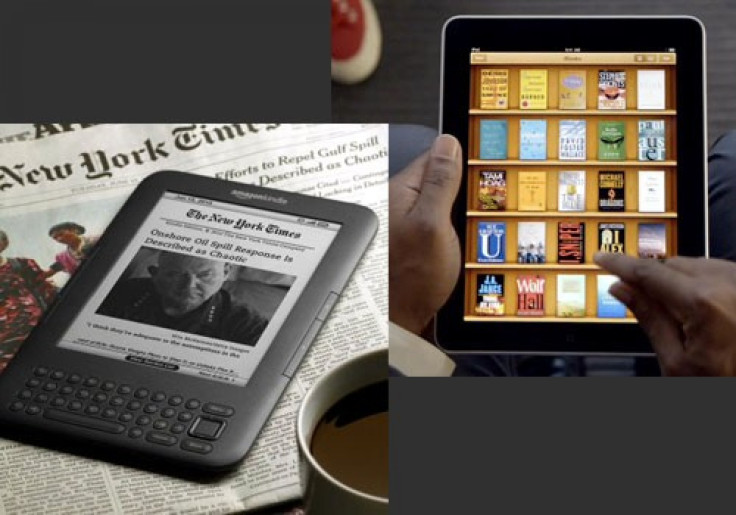 One thing is clear: While shareholders of both Apple and Amazon may not be happy, consumers will be once Amazon starts shipping its much-anticipated Kindle tablet for about $300.
Amazon, the world's biggest e-retailer, has neither officially introduced the Kindle tablet nor even disclosed its name. But the Seattle-based giant, which has already sold more than 17 million Kindles, has ordered as many as 900,000 units of its new tablet from Taiwanese manufacturer Quanta.
For sure: Amazon maestro Jeff Bezos has seen the huge success of the iPad, so he'll try to sell his Amazon version cheaper, faster and better than Apple's product. Like Apple, he's a shrewd retailer.
Additionally, he watched as HP, undone by the TouchPad fiasco, sold out in August when it priced them cheaply in its $99 fire sale. That demonstrated a demand for an iPad that was cheaper, if not as beautifully designed and multifaceted as a Steve Jobs-influenced product.
Analysts and market researchers see gold in the competition. Amazon could provide a shot in the arm to the non-Apple tablet market, said J.P.Morgan's Mark Moskowitz, who believes total tablet shipments this year could reach 51.9 million. Market researchers IHSiSuppli think the market might reach 60 million, with Apple taking about a 75 percent share.
So how can Cupertino, Calif.-based Apple stand up to Amazon, as well as some of the others that have waded into the tablet pool like Research in Motion, Samsung Electronics, Sony and Dell?
One way is to phase in sales of any new iPad3 product quickly but around $799 for fourth-quarter sales, while chopping the iPad2 price from its current $499 starting prices for a 16GB version and $699 for the 64GB mode.
After shipping so many million iPads, Apple could easily match the Amazon Kindle tablet's initial selling price and still profit. Engineers have reverse engineered the iPad2 and estimated component cost around $178, which Apple sells for an average price of $368, according to IHSiSuppli breakdowns.
Apple now derives a 53 percent gross margin for the iPad2, which uses industry standard components from the likes of Texas Instruments, Micron Technology, Cirrus Logic, STMicroelectronics and ARM Holdings. The microprocessor, from ARM Holdings (actually made by a Chinese or Taiwanese foundry) accounts for about 26 percent of the component cost.
After shipping 9.25 million iPads last quarter alone, Apple's contract manufacturers should be able to squeeze more cost out of the product, allowing for an iPad2 discount. Then the iPad3 could be priced at a much higher list price and average sales prices for afficionados and must have buyers.
The concept would change the strategy long used by Jobs to tailor Apple products somewhat like a BMW in a Honda market. But having a two-tier price, which analysts like Peter Misek of Jefferies expect, allows it to make money and keep selling a popular product for holiday sales in a period when consumers may feel stretched.
Assuming Amazon manages a powerful Kindle Tablet launch, Apple's market share would fall, but still maintain something like 60 percent. That would leave Android-based tablets like the Kindle with about 30 percent, Windows-based ones with about 4.4 percent and RIM's BlackBerry PlayBook with about 3 percent.
The Kindle will resemble the iPad and likely have a 7-inch color touchscreen, which could also include a 10-inch version next year. Aside from direct sales, Amazon can use current retailers like BestBuy and Target.
Once the hardware is out, Amazon would want to offer as many advantages as possible, copying the Apple strategy. For movies and entertainment, it can offer free Amazon Prime subscriptions. A customer would get access to Amazon's Android App store. And with the same technology already delivering titles to Kindle users for the Kindle Tablet, content delivery ought to be fast.
To start, Apple will remain way ahead of any competitor with its huge library of applications. But if Amazon worked fast, added more content, perhaps acquired services like Hulu or tapped into some of its existing relationships with libraries, retailers and recording studios, the library could expand quickly.
Then both Apple and Amazon benefit, as do other buyers of tablets, as the device proliferates. Market researchers like Forrester suggest Amazon might ship as many as 5 million tablets at launch.
In an otherwise sour market for all manner of electronics, the tablet shift could be the start of something big: a further miniaturization of the PC business.
That could be one reason behind HP's move to spin off its PC unit to shareholders. Meanwhile forecasters like IDC expect middling PC growth around 3.8 percent this year. Tablets, though, are growing at rates exceeding 240 percent.
The risk is bigger for Amazon, whose gross profit last quarter was a mere 2.53 percent on revenue compared with Apple's 23.5 percent.
Generation Y has an altogether different view of client devices than older generations, said Ranjit Atwal of IDC. Rather than buy a first PC, they'll opt for a tablet, taking advantage of portability, connectivity and entertainment capabilities not imagined when Apple was set up 35 years ago.
© Copyright IBTimes 2023. All rights reserved.
FOLLOW MORE IBT NEWS ON THE BELOW CHANNELS