Kohl's Hurt By Holiday Sales: Will Its Amazon Return Partnership Ever Pay Off?
Kohl's (KSS) share price fell over 9% mid-morning on Thursday after seeing its comparable store sales drop for the holiday shopping period. The retailer saw comparable store sales decrease by 0.2% over the timeframe, which Kohl's attributed to lower women's apparel purchases.
"Throughout the holiday period, we remained focused on serving our loyal customers and engaging with an increasing number of new customers," Michelle Gass, Kohl's CEO, said in a statement. "We are managing the business with discipline and we expect to deliver on our earnings guidance for the full year.
"We continue to see momentum in key areas including our digital business, active, beauty and children's, and solid performance in footwear and men's. This was offset by softness in women's, which we are working with speed to address," she added.
Based on the lower than expected holiday sales, Kohl's reduced its fiscal 2019 outlook, saying that it expects its earnings per share to be on the low end of its previous guidance of $4.75 to $4.95.
Kohl's has worked to differentiate itself from other retailers by introducing new brand promotions under Curated by Kohl's, an Outfit Bar, an enhanced HGTV deal, and partnerships with Ugg brand Koolaburra and Ellen DeGeneres' ED pet line.
One of the bigger ventures that Kohl's entered into in was with e-commerce giant Amazon for the return of product orders. While Kohl's was banking on added foot traffic in stores from the partnership, it has yet to come to fruition for the retailer as Bank of America analyst Lorraine Hutchinson told CNBC that she downgraded the company's shares from buy to neutral.
"We had expected significant new product launches, incremental traffic from the Amazon returns program and investments to drive sales to fuel outsized comps vs. peers," she told the news outlet. "We worry the Kohl's will need to continue to spend and promote to attract and retain new customers."
Shares of Kohl's stock were down 9.52% as of 11:18 a.m. EST on Thursday.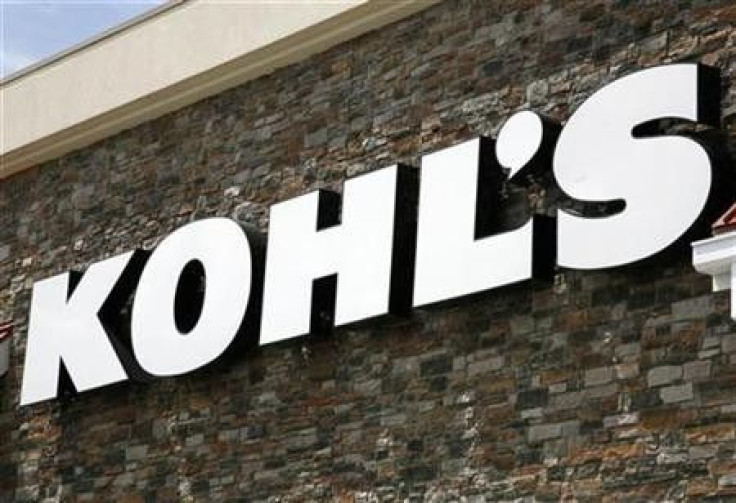 © Copyright IBTimes 2023. All rights reserved.