Korean Air 'Nut Rage' Incident: Flight Steward Says He Was Forced To Kneel, Apologize To Controversial Former Executive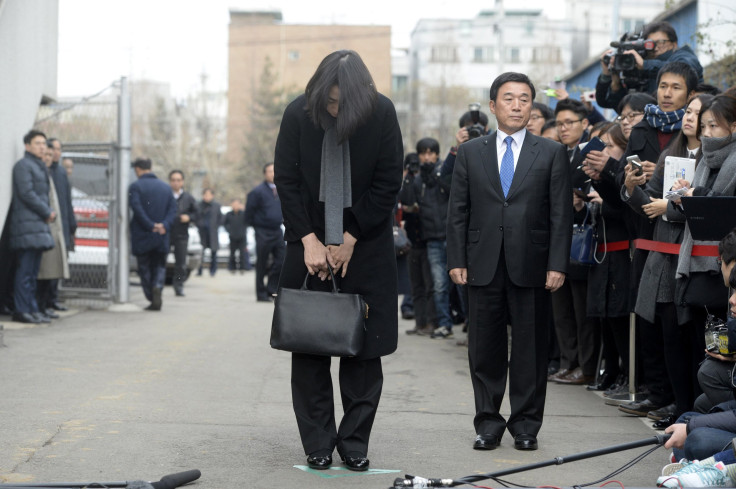 SEOUL (Reuters) - The head of cabin crew who was kicked off a Korean Air Lines flight after a company executive raged over the way she was served macadamia nuts said he was insulted and forced to kneel down to apologize to the executive.
In a case that sparked public outrage and ridicule over her treatment of flight crew, Heather Cho, the daughter of the airline's chairman and head of in-flight service, reprimanded the cabin crew chief and one of his flight attendants who brought nuts to her in a bag, not a dish.
"In a situation where she said "Make contacts right now to stop the plane. I won't let the plane go", I dared not object to her, the owner's daughter," Park Chang-jin, the chief purser, told state-run TV network KBS late on Friday, ending days of silence.
The pilot brought the plane back to its gate at New York's John F. Kennedy International Airport for the cabin crew chief to be expelled. The flight arrived in Incheon, near Seoul, 11 minutes late.
Cho is the eldest daughter of the company chairman Cho Yang-ho. Two siblings are also executives at the airline.
Park said that Cho swore at him, jabbed the back of his hand with a file case several times, and pointed her finger at him while he kneeled.
The incident that was first reported on Monday has stoked both mirth and anger in South Korea, whose economy is dominated by powerful family-run conglomerates known as chaebol.
Cho has been stripped of all titles at the airline and its affiliates, and faces investigation by the government and prosecutors to determine whether she breached aviation laws.
She bowed and offered a public apology before being questioned by the transport ministry in Seoul on Friday. Speaking to reporters hours after being questioned, Cho declined to respond to the cabin crew chief's account of the incident.
"I have no idea... I have never heard of it," Cho told reporters, slightly shaking her head.
(Reporting by Ju-min Park; Editing by Simon Cameron-Moore)
© Copyright Thomson Reuters 2023. All rights reserved.