Kraft Foods Group Inc, H.J. Heinz Company Merger Unlikely To Face Antitrust Hurdles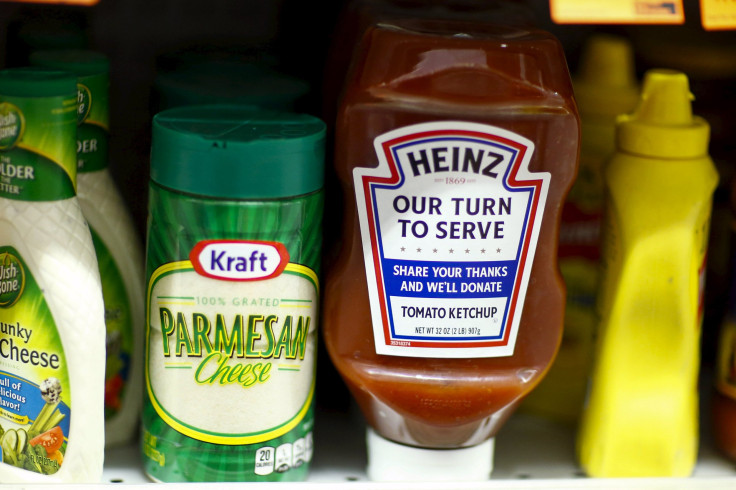 You can dine for days by combining products from Kraft Foods and H.J. Heinz -- starting with Bagel Bites, Philadelphia Cream Cheese and Maxwell House coffee in the morning. Noon: Lunchables, of course. And for dinner, Oscar Mayer wieners slathered with Heinz mustard, with some Ore-Ida Tater Tots on the side. Wash it all down with a big glass of Kool-Aid.
Foodies and nutritionists won't join in on the feast, but some 98 percent of U.S. food cabinets and refrigerators contain at least one product from either Kraft or Heinz. The combined company will wield substantial market power over aisles upon aisles of supermarket shelf space.
Even so, experts say government regulators are unlikely to block the proposed Kraft-Heinz deal announced Wednesday. Are there possible antitrust issues that Department of Justice and the Federal Trade Commission will scrutinize?
"You better believe there are but not the kind that would stop this transaction from going through," Anthony Sabino, a professor of Law at St. John's University in New York, says.
Shares of Kraft Foods Group Inc. (NASDAQ:KRFT) soared more than 35 percent Wednesday after H.J. Heinz Company announced it will buy the company for $46 billion, creating world's fifth-largest food and beverage company with annual revenue of $28 billion. The new entity will be called The Kraft Heinz Company, headquartered in Pittsburgh, Pennsylvania, and the Chicago, Illinois, area.
The combined company will also create the third largest U.S. food and beverage company by annual sales, behind PepsiCo Inc. and Nestle USA. The deal will merge two portfolios of brands, including the famous Heinz ketchup brand. Its parent company H.J. Heinz Co. is valued at more than $23 billion.
Kraft Foods, which has a market capitalization of $35.5 billion, owns brands such as Capri Sun, Jell-O, A.1., Planters and Velveeta. Together the new company will have eight brands valued at more than $1 billion and five brands valued between $500 million and $1 billion.
Few analysts see a downside to the merger. On the surface, the deal makes a lot of sense for both parties. First, it is a natural extension and allows the new company to offer a full array of products to its customers. On average, most people who buy Heinz ketchup are also buying Kraft products, and for the most part, the product lines complement and doesn't compete with each other, Adam Sarhan, founder and CEO of Sarhan Capital, says. "That's a huge plus because it allows the new combined company to offer more products to its customers, and typically that's a great thing," Sarhan says.
Consumers stand to benefit as well because they are offered more products, hopefully at a lower rate, because the combined company is expected to lower costs. "Hopefully, it is a win-win for both companies and the end consumer," Sarhan says. The combined company is expected to save around $1.5 billion in annual costs by the end of 2017, Kraft Foods Group and H.J. Heinz Co. said Wednesday.
Sarhan says he can see no immediate antitrust issues. He says "Heinz is buying a complementary business, not another ketchup business."
Lisl Dunlop, a partner at Manatt, Phelps & Phillips, LLP, in New York, says consumers could become concerned about the enormous leverage the combined company will have on food distributors. "If they own the breakfast aisle, or even 50 percent of the breakfast aisle, they may be able to leverage that against purchases, and then those price increases would be passed down to consumers," Dunlop says.
Sabino says regulators are likely to engage in a bit of horse trading with the company, however, making the deal contingent on the sale of some products and brands that overlap. For instance, Heinz has a brand of pickles; Kraft does, too -- Claussen. Regulators could force the combined company to sell one of those product lines to a competitor in order to diminish its market power.
The aim of regulators is to prevent the new company from possessing the kind of market control that would allow it to reduce consumer choices, decrease production and raise prices. Although the combined Kraft-Heinz entity will dominate many brand areas, Sabino says 1999's Exxon-Mobil deal is the model regulators are likely to apply. At the time of the merger, hundreds of suburban intersections across the country featured an Exxon station on one corner and a Mobil operation across the street. "Regulators still allowed the merger," Sabino says, pointing out that the Department of Justice asked Exxon Mobil to sell stations that were too close to one another. Sabino cautions that regulators are not concerned with a company's eventual size. "Remember: The point of American antitrust law is to protect competition -- not to protect individual competitors" Sabino says.
Billionaire investor Warren Buffett's Berkshire Hathaway and Brazilian private equity firm 3G Capital, which own H.J. Heinz Company, will invest an additional $10 billion in the combined company. Under the terms of the deal, Heinz shareholders will own a 51 percent stake in the combined company, while Kraft shareholders will hold a 49 percent stake and receive a special cash dividend of $16.50 per share.
Bernardo Hees, CEO of Heinz, will become CEO of The Kraft Heinz Company, and Alex Behring, Heinz chairman and managing partner at 3G Capital, will be chairman. John Cahill, Kraft CEO and chairman, will become vice chairman.
The deal is expected to close in the second half of 2015.
Shares of Kraft Foods Group Inc. soared to $82.77 in afternoon trading. Heinz was sold in 2013 to Buffett's Berkshire Hathaway and the Brazilian investment firm 3G Capital for $23.3 billion.
© Copyright IBTimes 2023. All rights reserved.