Kristen Stewart Talks About Julianne Moore, Meeting Alzheimer's Patient And 'Still Alice'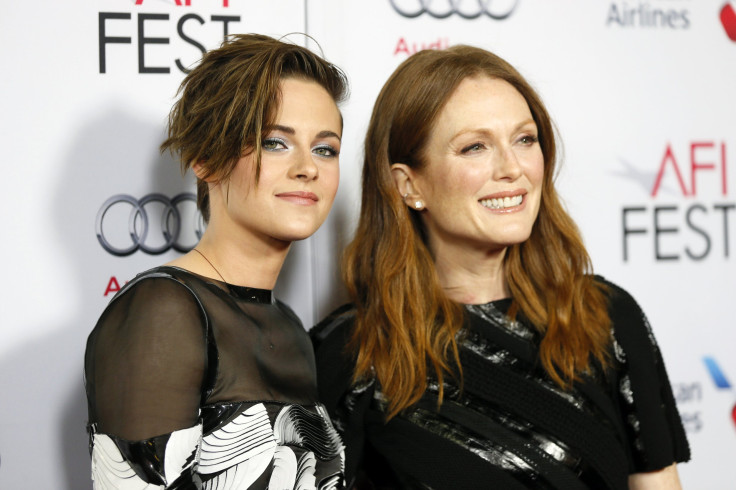 Kristen Stewart spoke about her on-screen mother Julianne Moore during an interview on Thursday saying that it's seldom that someone gets a chance to work with people "you truly have a connection with," according to E! News. The 24-year-old actress will star with Moore in the Wash Westmoreland and Richard Glatzer-directed movie "Still Alice."
Stewart reportedly said that she had known Moore for a long time and had also worked with her husband Bart Freundlich "on a movie that I did when I was really little called Catch That Kid." Stewart was 10-years-old when she worked with Freundlich on the movie.
"Everyone always says that you want to work with people that you truly have a connection with, but it doesn't always happen," the "Twilight" star reportedly said. "That's the kind of stuff that I really go after when I know that I could play her daughter because it's not a stretch. It's something that is so very much in us. The story is powerful and sad and scary, so I was very comfortable jumping into that with her."
Moore also reportedly said about Stewart that she is "such a wonderful actress and she's so emotional, so full of feeling. She really has it at her fingertips, and I just love her. I love her to death."
Moore plays the role of a professor who is diagnosed with Alzheimer's disease. Stewart reportedly spent time with an elderly Alzheimer patient to prepare for the film, which she said involved a lot of research.
"She was quite old, so it made sense that she wasn't fully with me," she said. "But I knew, for a second, that she had been dropped into her body, and I was like, 'Oh my God, this is rare, and this is very brief.' I really held on to those few seconds, and I really appreciated it.
"Cut to two seconds later, we're hanging out with her and her family, and she's trying to say something about the dinner or something, and everyone's just talking over her," Stewart reportedly added. "I felt instantly that she has so much to offer, and she might not be able to cognitively explain how she's feeling, but she's feeling so much. I had a connection to this subject. I judged harshly people who couldn't deal."
© Copyright IBTimes 2023. All rights reserved.
FOLLOW MORE IBT NEWS ON THE BELOW CHANNELS