Kroger COVID Vaccine Giveaway: Win $1 Million Or Free Groceries For A Year
Kroger (KR) is stepping up its COVID vaccine effort by offering anyone that has received their shot through Kroger Health the chance to win $1 million in five payout cash prizes
The move by Kroger is part of a strategy to get more Americans vaccinated with the COVID vaccine as part of its #ComminityImmunity giveaway campaign, which will start on Thursday.
Vaccine recipients will need to register with Kroger to enter the contest or have a shot scheduled to enter.
The drugstore and pharmacy retailer will also be giving away 50 chances to win free groceries for a year. The 10 grocery winners will be selected each week for a total of five weeks.
The giveaway is open to both customers and Kroger employees that have received their COVID vaccine from the company.
Kroger is offering the sweepstakes program in collaboration with the Biden Administration to incentivize Americans in the latest push to have at least 70% of the U.S. population of adults vaccinated with at least one dose of the COVID shot by July 10.
"The faster we reach community immunity, the sooner we can all get back to enjoying backyard barbecues, live music and gathering for special occasions," Rodney McMullen, Kroger's chairman and CEO, said in a statement.
"We greatly appreciate President Joe Biden's leadership and partnership with the private sector to increase vaccinations among the U.S. population, especially people of color and individuals under age 30. As an employer, grocery provider, and community partner, the #CommunityImmunity giveaway is another way we are doing our part to help America recover from the public health crisis and safely return to normal."
Kroger said it has administered more than 4.6 million COVID vaccines to the American public to date. It has more than 2,200 pharmacies and 220 clinics in 35 states.
The $1 million vaccine giveaway comes as CVS announced a sweepstakes of its own for those that have been vaccinated at its pharmacies or those that register to be vaccinated with the retailer. Prizes include tropical vacations, Super Bowl tickets, date nights, cruises, and more.
The Centers for Disease Control and Prevention said on Friday that more than 132.7 million people have been fully vaccinated against COVID-19, accounting for 40% of the U.S. population.
Shares of Kroger stock were trading at $36.36 as of premarket hours on Friday, up 7 cents, or 0.19%.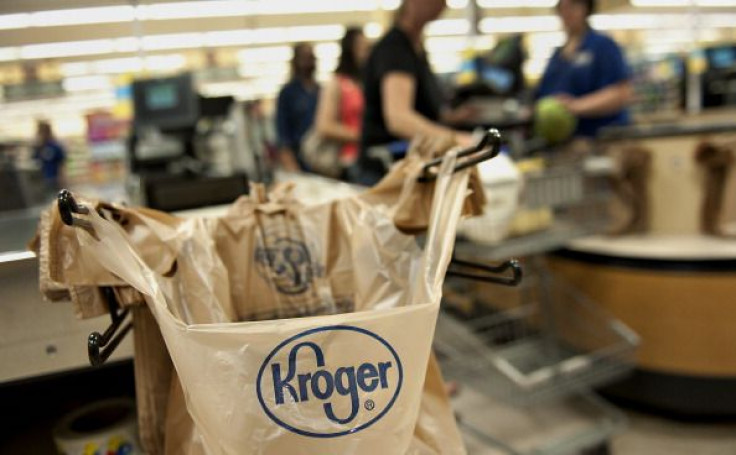 © Copyright IBTimes 2023. All rights reserved.