Kylie Jenner Kisses Boyfriend Tyga In Racy New Snapchat Video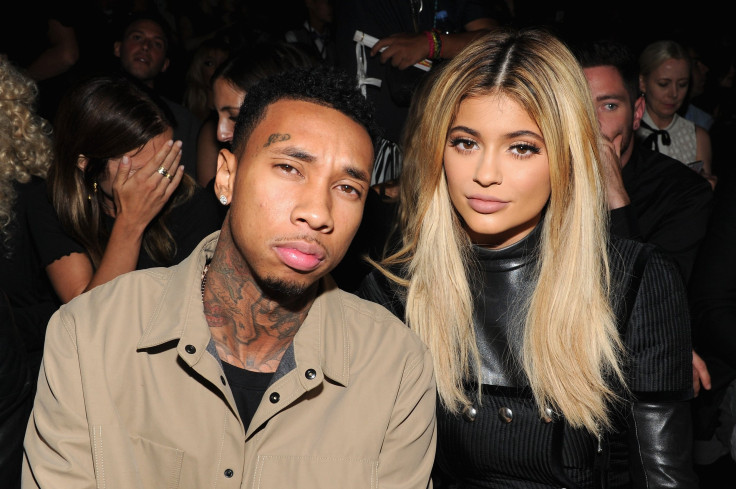 Kylie Jenner and boyfriend Tyga are no longer hiding their romance. Ever since the "Keeping Up With the Kardashians" star turned 18 years old in August, the pair has been flaunting their relationship for everyone to see, and in a recent Snapchat video they really ramped up the PDA.
After attending Alexander Wang's New York Fashion Week show on Saturday night, Jenner posted several Snapchat videos of herself partying with friends and then kissing Tyga on the lips as she stares at the camera.
The "Hookah" rapper has made several appearances in Jenner's social media videos lately. In a recent post, she's seen grabbing on Tyga as he laughs and tries to pull away from her. In another Snapchat video, the E! star hugs the 25-year-old as he raps the words: "She's got a marshmallow booty, I like to sprinkle it too." And in a short video from last week, Tyga is seen straddling Jenner as he asks her about a face mask she's wearing to bed.
As previously reported, the teen and Tyga first publicly acknowledged they were a couple last month when the rapper released the video for "$timulated," one of the songs off his "The Gold Album." In the almost four-minute music video, Tyga and Jenner kiss each other and hug as he raps lyrics like "they say she young, I shoulda waited / she a big girl, dog, when she stimulated" and "I'm puttin' in, I'm penetratin.'" Watch Jenner and Tyga kiss in the video below.
© Copyright IBTimes 2023. All rights reserved.