Lexus Debuts 'Electrified' LF-30 Concept Car As Part Of 2030 Vision
With the Tokyo Motor Show as its backdrop, Lexus has unveiled an ultra-modern all-electric vehicle with the LF-30 concept car. The new all-electric car is part of Lexus' "electrified" vision for 2030.
While not many details were provided about the LF-30, Lexus did say that it is "drawing on the lessons learned developing the core technologies found in Lexus' popular range of gasoline-electric motors." In particular, Lexus points to the control of the powertrain, steering, suspension, and brakes.
Lexus said it will launch its first BEV in November 2019 and will have electrified versions of all its Lexus models by 2025 as it prepares for EVs to outpace conventional vehicles.
In explaining the LF-30, Lexus said the car takes on a "futuristic form" that utilizes autonomous driving and new technologies. The vehicle integrates in-wheel electric motors that work to complement the car's exterior body to "express the energy created by the wheels."
The LF-30 also takes on a hoodless vehicle shape, which Lexus called its signature "spindle" form, which takes on a sleek and modern appearance while achieving aerodynamics and cooling performance.
The EV has a window opacity that can be adjusted with an interior cockpit design that Lexus said takes on the concept of "Tazuna" – the understanding between horse and rider. This allows for the driver to operate the vehicle's functions without having to shift vision in seats that were based on the first-class seat of an airliner, Lexus said.
Other features of the LF-30 include artificial muscle technology in the rear seats, Mark Levinson audio system, headrest speakers with noise-canceling features. The glass roof above the vehicle has voice and gesture controls with augmented reality to display information such as star-filled sky, videos, and navigation.
The EV also has artificial intelligence and a Lexus Airporter drone technology support vehicle, which can be used to transport luggage. The self-driving controls, called Teammate, allow for chauffeur and guardian modes with self-parking functions and front-door pickup features also available.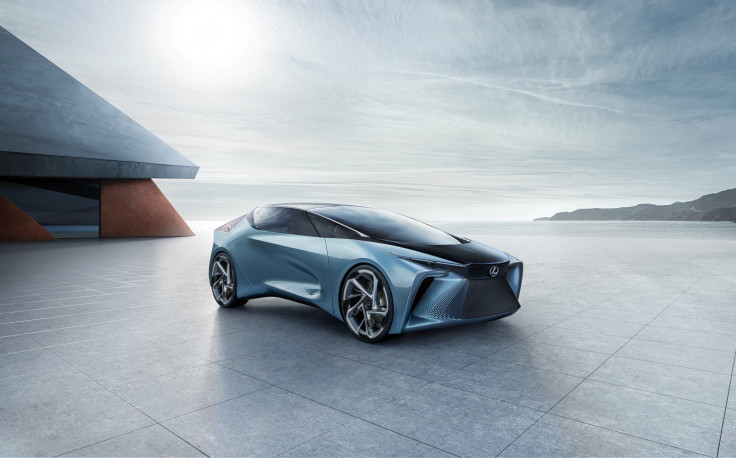 © Copyright IBTimes 2023. All rights reserved.