Libya: Tripoli Sees Temporary Ceasefire While 75 Bodies Are Found In Benghazi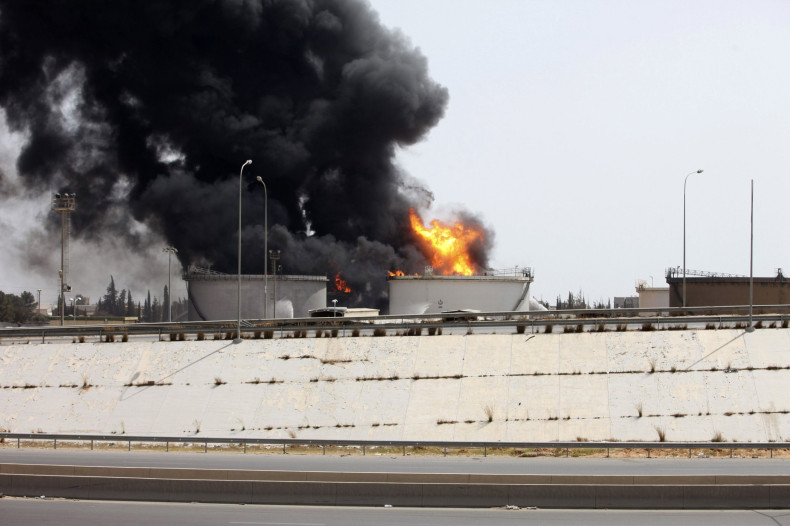 A temporary cease-fire on Wednesday by rival Libyan militia, who are fighting to gain control of Tripoli International Airport, allowed firefighters to control a huge blaze that had broken out at a fuel depot when it was hit by a rocket, Reuters reported.
Although the volume of smoke had decreased, it was still unclear if the fire at the airport depot, which houses millions of gallons of fuel, for supply to the airport and the capital city, was contained. The cease-fire ensured that Wednesday was the quietest day in Tripoli in two weeks with only reports of sporadic shelling coming from outside the cease-fire zone near the international airport, according to reports.
"Many mediators have succeeded in convincing the militias to stop fighting, at least temporarily," Ahmed Lamin, a Libyan government spokesperson, said, adding: "They are trying to get them to the negotiating table, we hope they will agree."
Wednesday was a quieter day in Benghazi too after the Libyan Special Forces withdrew from the main army base in the city on Tuesday.
At least 75 bodies were found in the country's second-largest city of Benghazi, after two days of fighting in which Islamist fighters overran a Libyan army base. At least 35 of the bodies were reportedly taken to Benghazi's main hospital with other city hospital sources saying they had received at least 25 bodies from other places.
Mohammed al-Misrati from the Libyan Red Crescent, the local arm of the International Red Cross, said that they had found more than 50 bodies inside the base. "We are trying to get them out," he said, Reuters reported.
The last two weeks have seen the worst outbreak of fighting since the civil war in 2011, which saw the fall of Moammar Gadhafi, and has prompted many Western governments to pull their diplomats out of Libya. Earlier in the week, the U.N. and the U.S pulled their embassy staff out of the North African country.
France closed its embassy on Wednesday and evacuated 30 French nationals from Tripoli, after the U.S. evacuated its diplomatic mission in a road convoy under heavy military escort across the Tunisian border.
Based in the towns of Zintan and Misrata, rival militia factions have blasted each other's positions in Tripoli with Grad rockets and heavy artillery fire, turning the south of the capital into a war zone, according to reports.
In the three years since Gadhafi's fall, the Libyan government has been unable to rein in the numerous and heavily-armed rebel brigades, composed of former fighters, who often make political demands of the state.