As Libyan Capital Tripoli Descends Into Chaos, Foreigners Are Fleeing Libya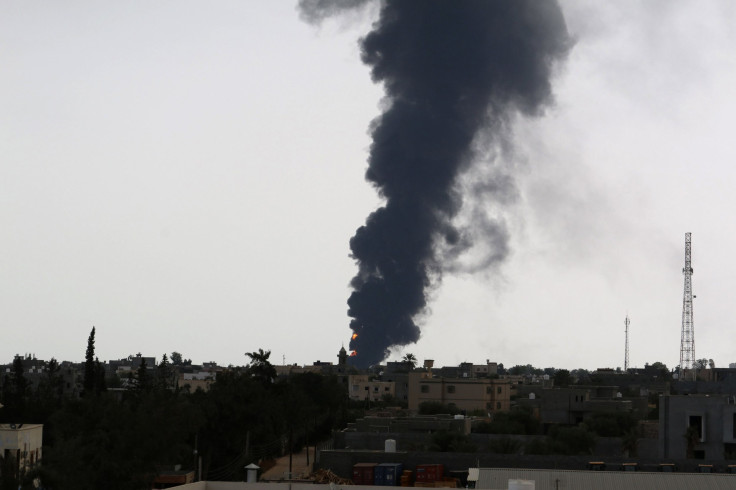 Clashes between rival militias in Libya are getting increasingly deadly. A rocket hit a major fuel tank near the Tripoli airport Monday sparking a fire that nearly completely closed Tripoli International Airport and plunged the city into darkness. The power loss has cut the water supply in most of Tripoli. In just two weeks, nearly 160 people have been killed in Tripoli alone, and 50 were killed Sunday in Benghazi. As a result, foreign governments are leaving Libya and urging their citizens to flee as fast as they can.
In the past three days, at least nine international governments have issued warnings for their citizens to leave Libya or have evacuated their embassies altogether. So far, Turkey, France, Germany, Netherlands, Britain and the United States have moved their embassy staff out of the oil-rich country. The Philippines and Austria are preparing to evacuate their embassies and Canada has moved its operation to an undisclosed location. Eight other European countries have warned against travel to Libya, and neighboring Egypt is expressing growing concern about its border with Libya. Two weeks ago, United Nations workers pulled out after clashes had closed Tripoli International Airport.
Turkey Thursday became the first foreign government to evacuate its embassy and said it was preparing a contingency plan to withdraw Turkish citizens still in Libya if the situation did not improve. Two Turkish nationals working in Libya were reportedly kidnapped last month and their whereabouts are still unknown.
"Unfortunately, the clashes in Tripoli have intensified, spreading to downtown and close to our embassy," Turkish Foreign Minister Ahmet Davutoglu said in an interview Thursday.
Two days later, the United States followed suit evacuating the embassy in Tripoli using warplanes and drones to monitor the convoy as it crossed into Tunisia. The State Department has not stopped embassy operations and said personnel will continue to work from other posts in the region.
"The security situation in Libya remains unpredictable and unstable," the warning said. "The Libyan government has not been able to adequately build its military and police forces and improve security following the 2011 revolution."
Gunfire hit a British embassy convoy on Sunday during an attempted hijacking while the group was attempting to evacuate to Tunisia. Also on Sunday, the U.K. and German governments urged all of their citizens to leave the country immediately.
Egypt has yet to evacuate, but President Abdel Fattah el-Sisi has expressed growing concern about the shared border. Last week, in one of the deadliest clashes since the ouster of Muslim Brotherhood-backed President Mohammed Morsi in 2013, at least 21 Egyptian soldiers were killed at a checkpoint near Libya. The attackers were reported to be "smugglers" who bring weapons from Libya to the Sinai Peninsula, a notorious jihadi battleground. Egypt's state news agency reported 23 Egyptian workers were killed in Tripoli Sunday. Egyptian ambassador to Libya Mohammed Abu Bakr, who runs the embassy from Cairo, denied there were Egyptians among the dead.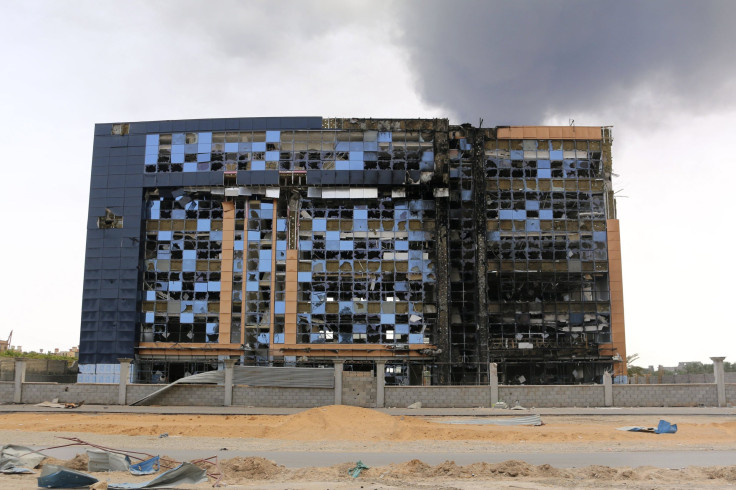 Embassy closings and evacuations are a symptom of a country descending into chaos. To understand just how dire the situation has become in Libya, keep in mind the United States still has an embassy open in Iraq, where about 193,000 people have suffered violent deaths in the past 11 years.
Since the 2011 revolution that ousted Moammar Gadhafi , Libya has grown increasingly dangerous as heavily armed rebel militias are fragmented and continue to fight each other for control. There are dozens of militias currently operating in the country and allegiances between them continue to be born and broken.
For the past few months, tensions have been growing between the country's Islamist-dominated General National Congress and Gen. Khalifa Hifter, a former top officer in Gadhafi's armed forces, who launched a crackdown against Islamist groups and the Libyan government, calling it Operation Karam (dignity in Arabic). Hifter controls the so-called Libyan National Army, a group of about 6,000 soldiers, many of whom have ties to the former regime.
Since Gadhafi was ousted, weapons have been flowing in the country after his many depots were looted. In May, the New York Times published a report saying that U.S. weapons from a Special Operations counterterrorism cell had been stolen in Libya and were most probably being sold on the black market. Defense Department officials say they believe brigades in Libya have been arming jihadist militias across North Africa.
As of Monday, the oil depot fire continues to rage and Libyan interim officials put out a statement saying the inferno could lead to a "humanitarian and environmental disaster." The government asked for "international help," just as all the foreigners are doing their best to flee Tripoli.
© Copyright IBTimes 2023. All rights reserved.