Little Miss Hispanic Delaware, Jakiyah McKoy, Stripped Of Crown Over Claims She Is Not Hispanic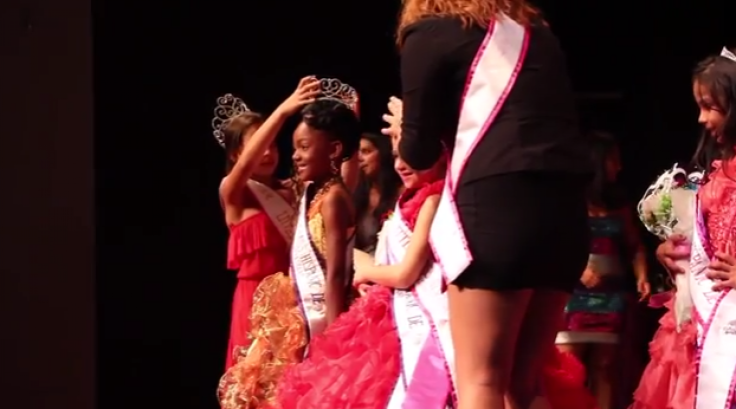 Seven-year-old Jakiyah McKoy won the title of Little Miss Hispanic Delaware but was later stripped of the crown after being unable to prove her ethnicity. According to pageant officials, Jakiyah's parents did not provide adequate documentation that the young girl was Hispanic.
The News Journal of Wilmington reports that Jakiyah was named Miss Chiquita Delaware on Aug. 31, but later stripped of the title. The crown was awarded to second-place finisher Meriana Ayala. According to the pageant organizers, eligible contestants must be at least 25 percent Hispanic and Jakiyah's mother, who lives in Brooklyn, N.Y., and her father, who lives in Wilmington,, did not provide proper documentation that confirmed the child's ethnicity. Despite the inability to prove her ethnicity, the pageant organizers let her compete and it was not until after she won that other parents questioned her eligibility.
Maria Perez, president of Nuestras Raíces (Our Roots), the pageant's organizers, told the News Journal, "The issue was we asked her for verification. The verification she brought does not specify she was 25 percent Hispanic or Hispanic at all." Jakiyah's grandmother, who was born in the Dominican Republic but lived in the United States illegally, did not having proper documentation.
Tiffany Ayala, the mother of Meriana Ayala, who tipped off the organizers, said Jakiyah would say she was "Black," not "Dominican," and this is not an issue of race but a matter of eligibility. "It's a Hispanic requirement, and it's right there," said Ayala to News Journal.
The pageant organizers are waiting for Jakiyah's parents to provide further verification of the girl's ethnicity and could crown both girls as Little Miss Hispanic Delaware.
A Change.org petition for Jakiyah McKoy to be reinstated as Little Miss Hispanic Delaware has mor than 1,700 signatures. The petition's organizer, Daniel José Older, believes that, despite the official claims over verification, the issue is a racial.
According to Older, "Pageant organizers asked Jakiyah's family to prove that she is of Latin heritage, but they were unable to do so: Jakiyah's late Dominican grandmother was undocumented. Meanwhile, none of the other, lighter skinned, competitors were subject to such an investigation. This petition is to demand that Jakiyah McKoy keep her rightfully won crown, because her beauty represents us all."
© Copyright IBTimes 2023. All rights reserved.