Low Wages Are Leaving Millions Of Workers Behind, Keeping The Poverty Rate At Recession Levels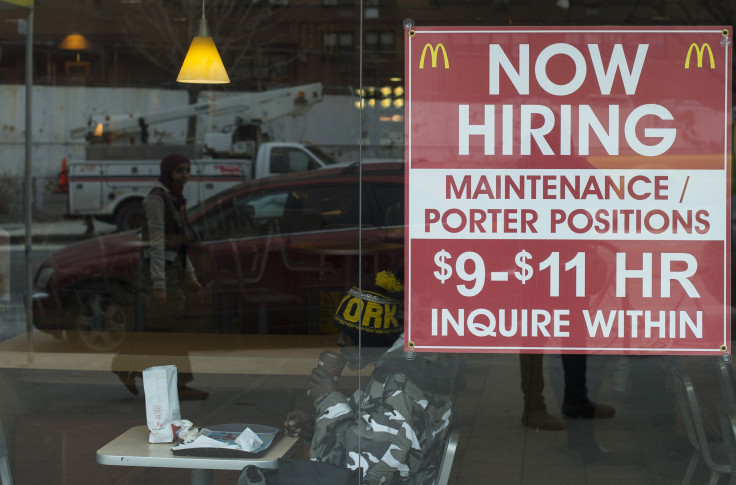 There's a dirty secret about the minimum wage: If you're trying to support a family on it, working full-time, you're still going to fall below the poverty line. It's something that millions of people in the U.S., such as Elena Campo, are finding out the hard way.
"The street isn't easy," says Campo, 55. Six hours a day, five days a week, she stands a few blocks from Broadway and Wall Street in the New York borough of Manhattan, wearing a billboard that advertises deals at a nearby Subway fast-food outlet. She hands out flyers to passersby, a mix of tourists, bankers and other white-collar professionals. "It's tiring, it's a lot of people coming and going," she says in Spanish.
Campo says she earns $8.75 an hour -- the New York state minimum, $1.50 above the federal floor -- and lives with her 23-year-old, college-student son in the city's borough of Queens. He waits tables on the side, two to three days a week, earning several hundred bucks a month. But Campo is the primary breadwinner. Counting her son's work, their household income hovers around the official poverty threshold of $15,853.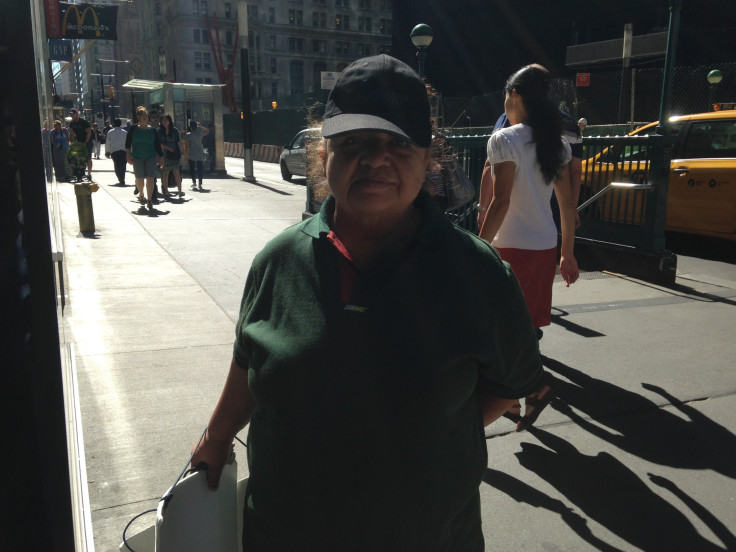 Almost 15 percent of the American population was in poverty last year, according to a U.S. Census Bureau annual report released Wednesday. High by historical standards, that official rate of 14.8 percent is up 0.3 percent over the previous year. To be sure, children and the elderly make up a large chunk of the roughly 47 million people in poverty, the largest number ever in American history. But one of the big reasons why the rate remains stubbornly high, six years after the so-called Great Recession, is low wages. Today's income gains flow largely to the wealthy, and the scraps aren't trickling down to the working class.
"People feel like they're working more and more, but barely keeping their heads above water," says Stephen Pimpare, an expert on poverty and lecturer at the University of New Hampshire. "They're not wrong, they're not imagining that."
Pimpare also indicates he believes the official measure of poverty is deeply flawed. Among other deficiencies, he says, it understates the rate of poverty by failing to account for cost-of-living differences. After all, $8.75 an hour in New York is less than $8.75 in Mississippi. (The supplemental poverty rate, relying on a more nuanced set of data, was 15.3 percent, according to the Census Bureau.)
Nevertheless, the official measure still captures a decent share of working-age people. In 2014, about 7 percent of full-time workers met the definition, while 16 percent of all people who worked "less than full-time" were in poverty. Contrary to myths about welfare queens and food-stamp surfer bums, Pimpare says, "Poor people who can work, do work."
Leyla, 38, works 40 hours a week at a Papa John's franchise in New York. She spoke on condition of anonymity for fear of violating company policy. She says she supports herself and her three elementary-school-age children on her $10 hourly wage. "Every year, the rent's going up," Leyla says with a shrug. "It's not going down."
Leyla lives in an apartment in Bayonne, New Jersey. Meeting her $1,200 monthly rent can be headache-inducing at even the slightest uptick in expenses -- this month, it was the back-to-school supplies. She's paid her rent late a number of times in recent years. By now, the landlord is used to it and doesn't hassle her. Still, she says, "It's all hard to manage."
Low wages don't just put some workers directly into poverty. They're pushing millions of others toward the brink of becoming poor by federal standards -- just an injury, layoff or unexpected surgery away. Some of the industries that have seen the most employment growth in recent years, retail and fast-food, have some of the lowest pay that employers offer, at or near the minimum wage. According to the U.S. Bureau of Labor Statistics, people in two of the three fastest-growing occupations, home health aides and personal care aides, earn about $20,000 a year.
"These wages aren't enough for people to save money," Pimpare says. "So if you do lose your job, you don't have a cushion, it's more likely to draw you into poverty."
A separate study released by the Census Bureau last October shed some light on this dispiriting trend. It revealed that over a four-year period during the heart of the Great Recession, from 2009 to 2012, a whopping 32 percent of all Americans spent at least two months in poverty. That includes 49 percent of black people and 25 percent of people with one or more year of college experience.
The lack of wage growth remains one of the outstanding puzzles of the recovery. In fact, the Census Bureau report Wednesday also showed that household income fell nearly $1,000 to $53,657 between 2013 and 2014. Real household income is down 6.5 percent since 2007, the year before the recession.
Some economists turn to long-term, structural factors -- the fall in union density, globalization and the rise of new technologies -- to explain pay stagnation. But almost everybody agrees the official unemployment rate of 5.1 percent masks considerable slack in the labor market. Labor-force participation remains the lowest it's been since the 1970s, which means bosses don't feel that much pressure to attract employees with higher pay. Mark Hamrick, the Washington bureau chief for the consumer-finance site Bankrate, recently drew attention to these trends. "This is not your father's unemployment rate," he said.
© Copyright IBTimes 2022. All rights reserved.
FOLLOW MORE IBT NEWS ON THE BELOW CHANNELS