Luckin Coffee Rises Again, Opening Stores Faster Than Starbucks
After falling from grace in the last couple of years, Luckin Coffee is rising again, opening stores faster than Starbucks.
In the second quarter, the Chinese coffee chain opened 615 stores, ahead of the 600 planned by Starbucks. Overall, Luckin Coffee has 7,195 stores in China compared to 5,400 of Starbucks'.
New store openings and a 68.6% increase in monthly transactions have helped the company's net revenue rise by 72%. That's a big turnaround from a year ago, when the company had yet to release financial results.
Once upon a time, Luckin Coffee grew exponentially, closing in with Starbucks in the Chinese market, the American coffee shop chain that brought espresso drinks to a tea-sipping country.
Wall Street noticed it, as traders and investors chased after the company's shares after they made their debut in the U.S. exchanges.
But investor enthusiasm for the Starbucks' challenger didn't last long. It ended abruptly in early 2021 after news of accounting irregularities, which invited the close scrutiny of U.S. and Chinese regulators.
Soon after, Luckin Coffee filed for bankruptcy protection under U.S. Chapter 15, which crushed its shares, as traders and investors run for cover.
Quo Vadis Capital President Zolidis was among the few equity analysts, who sounded the alarm on Luckin Coffee's accounting problems early on, and he remained bearish while the company was under bankruptcy.
But he turned bullish after the company emerged from bankruptcy in April of 2022 and continues to be. Most notably, Zolidis thinks that the new company that emerged from bankruptcy early this year is a different company in many respects. First, it is almost free of debt, after redeeming $110M of 9% debt securities. "It's a rare situation for a company that emerged for bankruptcy recently," he told International Business Times in an email. "In addition, it's a good indication that management feels confident about the company's financials in the future."
Second, it has a strong cash position. The company had US$641M in cash on the balance sheet at the end of the second quarter, which is expected to reach approximately US$1B ($3.46 per share or 21% of the current market cap) at year-end.
Third, Luckin has returned to solid unit-level metrics and growth. For instance, in the most recent quarter, revenues per average company-operated store rose at an annual record rate of 31%.
Then there are same-Store Sales, which rose 41%, as Starbucks China revenues moved in the other direction, falling 40% over the same period. In addition, monthly customers per average store rose at an annual rate of 39%, while Restaurant Level Margin (Zolidis' calculations) exceeded 30%.
Zolidis further thinks Luckin has been beating competitor Starbucks thanks to rising new customer counts, increased existing customer frequency, and higher sales per customer. In addition, the Chinese chain's performance has received a boost from the introduction of new higher-priced products and a covid-friendly grab-and-go format relative to SBUX sit-down cafes.
Meanwhile, Zolidis sees Luckin's shares getting a boost in 2023 from an uplisting from OTC and incremental Street coverage. "These catalysts could be pushed to early 2023 but are now more certain following the recent rapprochement between the U.S. and Chinese on auditing," he adds.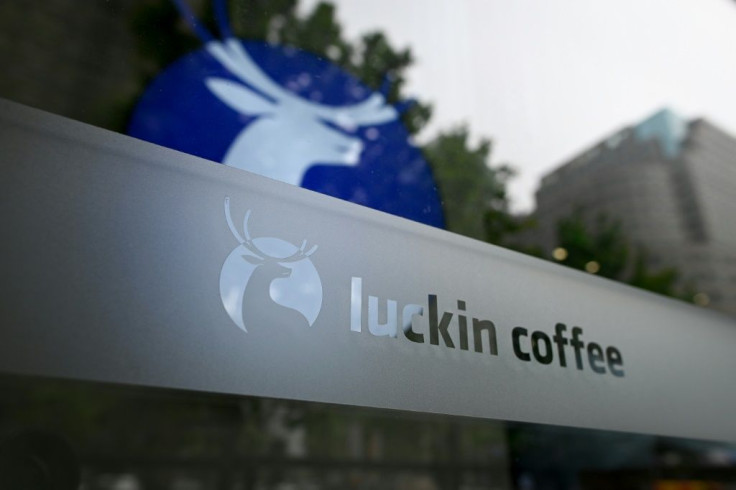 © Copyright IBTimes 2023. All rights reserved.
FOLLOW MORE IBT NEWS ON THE BELOW CHANNELS