Luxury Group LVMH's Sales Defy Downturn As Shoppers Splurge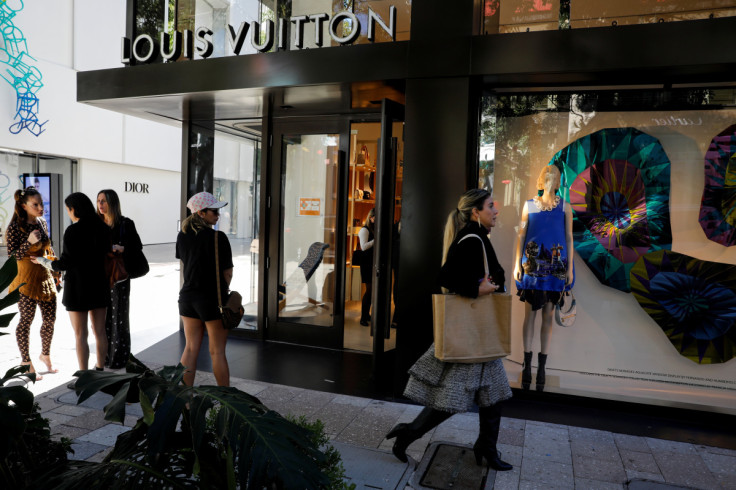 Luxury goods group LVMH's sales rose 9% in the fourth quarter as shoppers in Europe and the United States splurged over the crucial holiday season, helping to partly offset COVID disruptions in China.
Sales at the world's biggest luxury group reached 22.7 billion euros ($24.65 billion) in the final three months of the year, with the 9% increase on an organic basis a touch above analyst expectations for 7% growth, based on a consensus cited by UBS.
That marked a deceleration from the 20% growth recorded in the first nine months of the year, due to the hit in China from lockdowns and its subsequent exit from a zero-COVID policy, which has spurred a surge of infections in the world's second-largest economy.
"China was sharply down in the fourth quarter," the group's finance chief, Jean-Jacques Guiony, told reporters.
"The Chinese market has been complicated due to the health restrictions ... the second quarter was difficult, the third one better and the fourth one complex again," he said, adding the pandemic had "spread like wildfire" after Beijing authorities relaxed travel curbs in December, causing problems in warehouses, stores and distribution networks.
"Everybody was sick, it's as simple as that" he said. The situation had however markedly improved since the beginning of the year.
LVMH, a conglomerate spanning spirits, jewellery, cosmetics and fashion which is regarded as a bellwether for the wider luxury industry, does not give a breakdown for its brands.
But it said that in 2022 its star designer label Louis Vuitton surpassed 20 billion euros in sales for the first time -- around a quarter of total group revenues for the year.
LVMH has gained market share every year since 2019, said its boss Bernard Arnault, the world's richest man. The group proposed a dividend of 12 euros per share, up from 10 euros a year ago.
"Louis Vuitton, Christian Dior, Celine, Fendi, Loro Piana, Loewe, and Marc Jacobs are all gaining market share globally and reaching record levels of revenue and earnings," said Luca Solca, luxury analyst at Bernstein, referring to LVMH's fashion and leather goods brands.
LVMH's shares have hit new highs this month, giving the luxury goods group a market capitalisation of 400 billion euros for the first time and cementing its lead as Europe's most valuable company.
Analysts expect a strong return of Chinese shoppers - the main source of profits for luxury companies before the pandemic - after three years of COVID disruptions to boost the industry this year.
But the sector is likely to still see a slowdown overall after two years of stellar growth, with demand easing in the United States and Europe, where rising prices have prompted some high-end spenders to tighten their purse strings.
"With the month of January having started well and despite an uncertain geopolitical and economic environment, LVMH is confident in its ability to continue the growth observed in 2022," the group said.
($1 = 0.9208 euros)
© Copyright Thomson Reuters 2023. All rights reserved.