Macy's Flagship New York Store Breaks Thanksgiving Shopping Record Before Black Friday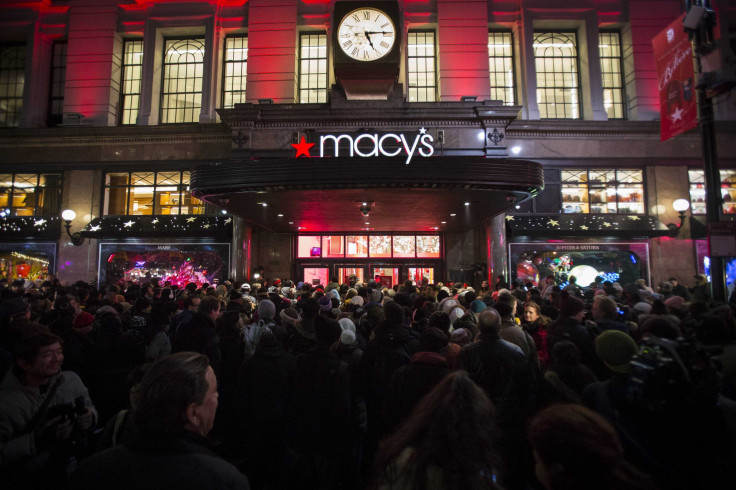 Nearly 15,000 people shopped at Macy's Herald Square flagship store in New York City on Thursday night, making it the highest ever early Black Friday shopping number for the store, Terry Lundgren, CEO of Macy's, said according to USA Today.
Macy's opened its doors at 6 p.m. on Thursday and customers rushed to take advantage of Black Friday sales a day ahead. Lundgren reportedly said that he was initially unsure about opening the stores at 6 p.m. but the move had turned out to be a success as thousands of people poured in and the main entrance remained blocked with shoppers 45 minutes after it opened, USA Today reported.
"This year it's definitely taking people much longer to get through the front doors," Lundgren said, according to USA Today, adding: "Obviously the customers wanted us to open at six-o-clock based on the incredible traffic we're having in this store."
The couches and chairs at the store were full by 7 p.m. while the Starbucks on the mezzanine floor of the store was reportedly packed with resting shoppers. Macy's would also offer prize gift codes worth $1 million to its customers to be used for Black Friday purchases, the company had said in a statement.
Fabienne Schmid, a former resident of the city who now lives in Switzerland, told USA Today: "It's part of Thanksgiving, it's part of New York," adding that she wanted to buy winter boots, but did not have the patience to handle the crowds.
© Copyright IBTimes 2022. All rights reserved.
FOLLOW MORE IBT NEWS ON THE BELOW CHANNELS