Magic Leap One Glasses: Augmented Reality Headset Release Date Set For 2018
Magic Leap unveiled its first mixed reality headset called the Magic Leap One. The developer kit or what the company calls the "creator edition" of the Magic Leap One will start shipping in 2018.
The Magic Leap One consists of three parts: the Lightwear goggles, the Lightpack external computer and a handheld controller. The Lightwear is connected to the Lightpack through a wire, while the controller looks a lot like the wireless Google Daydream Controller. With those three working together, the system allows the wearer to use different kinds of inputs including voice, gesture, head and eye tracking.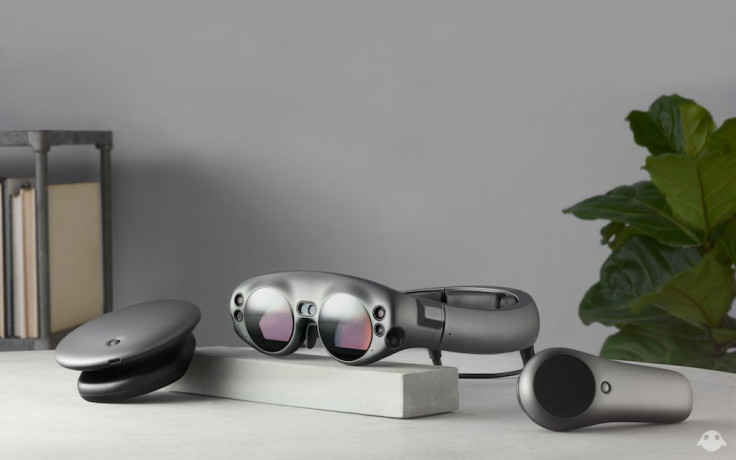 Magic Leap is using a technology called Digital Lightfield to produce realistic images in augmented reality. "Our lightfield photonics generate digital light at different depths and blend seamlessly with natural light to produce lifelike digital objects that coexist in the real world," the company said on its website. "This advanced technology allows our brain to naturally process digital objects the same way we do real-world objects, making it comfortable to use for long periods of time."
The puck-shaped Lightpack external computer houses the processor and handles the graphics of the Magic Leap One. The Lightpack can simply be clipped on the user's pocket allowing them to have six degrees of freedom and movement.
"This is a self-contained computer," Magic Leap founder Rony Abovitz told Rolling Stone. "Think about something close to like a MacBook or an Alienware PC. It's got powerful CPU and GPU. It's got a drive, Wi-Fi, all kinds of electronics, so it's like a computer folded up onto itself."
As for the Lightwear headset itself, it houses an array of sensors, including room-mapping cameras that is able to detect surfaces, planes and other objects. "The result is a system that sees what you see, allowing lightfield objects to not only exist in the physical world but actually interact with it," the company said.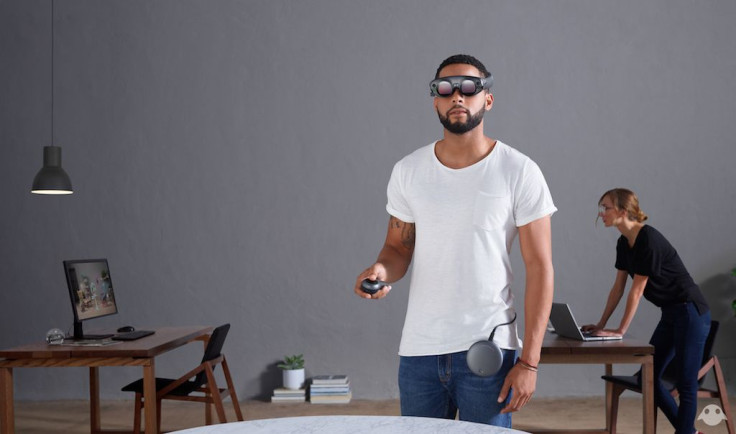 Magic Leap said that the Lightwear goggles will come in two sizes. It will also come with the forehead pad, nose pieces and temple pads, all of which can be customized so users will have a comfortable fit. The company is also planning to integrate prescription lenses for those who typically wear glasses.
What can the Magic Leap One do? Users will be able to display multiple screens anytime by projecting them on a wall through augmented reality. Web developers will also be able to optimize their content so it will be viewable as 3D objects. The Magic Leap One will also be able to bring in a new generation of augmented reality games, while also ushering in new ways to communicate in AR. Overall, the Magic Leap One seems very much like the Microsoft HoloLens, but it's supposed to have a larger field of view, as pointed out by The Verge.
Pricing and the exact shipping date haven't been given yet for the Magic Leap One, but the company says that it will ship in 2018. The company also said that it will be launching its Creator Portal in "early 2018," where developers will be able to access the Magic Leap One SDK along with all of the tools, resources and support that they will need.
Magic Leap One Glasses Video
© Copyright IBTimes 2022. All rights reserved.
FOLLOW MORE IBT NEWS ON THE BELOW CHANNELS