Malaysia Airlines MH370: Australia Says Nothing Found So Far In Southern Indian Ocean, Debris Spotted By Satellite May Have Sunk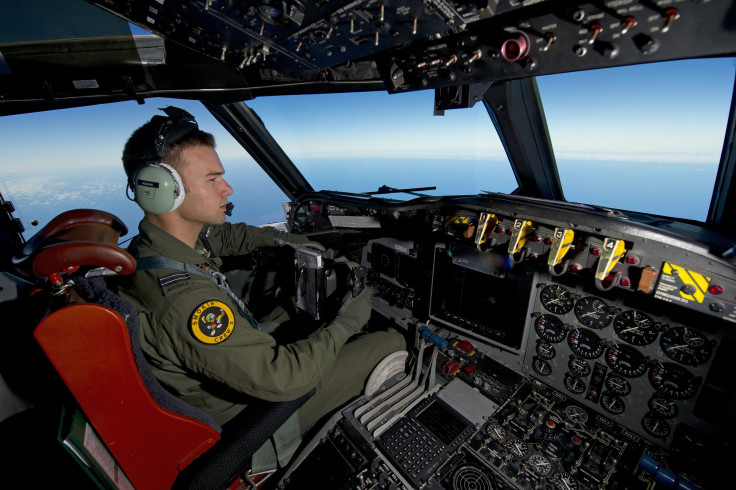 Warren Truss, Australia's deputy prime minister, said Friday that the search for Malaysia Airlines Flight MH370 in a remote portion of the southern Indian Ocean, about halfway between Australia and Antarctica, has turned up nothing so far in connection with the missing plane, and that the suspected debris may have sunk.
Even as planes from Australia, New Zealand and the U.S., along with a merchant vessel scoured the area -- known as the "Roaring Forties" for the rough seas found in that latitude -- for a second day for evidence of two objects spotted by a satellite, that could potentially belong to the missing plane, a search in the Andaman Sea between India and Thailand was reportedly renewed. And, according to a New York Times report, citing a local official, Australian aircraft now plan to abandon radar scanning and rely on human spotters peering across a remote expanse of the southern Indian Ocean.
"Something that was floating on the sea that long ago may no longer be floating," Truss told reporters in Perth. "It may have slipped to the bottom."
According to reports, Australian authorities said that the first of five aircraft that was sent Friday to one of the remotest places on Earth, about 1,500 miles southwest of Perth, returned with no information of the objects picked up by satellite images.
"It's about the most inaccessible spot that you can imagine on the face of the Earth, but if there is anything down there, we will find it," Australian Prime Minister Tony Abbott reportedly told reporters in Papua New Guinea, where he is on a visit. Authorities also reported extremely rough seas and poor visibility earlier, which was hampering the search mission.
The search for the missing plane will continue in that part of the Indian Ocean, after it was triggered Thursday by what authorities called "credible leads" following satellite images of debris potentially belonging to the missing plane. And, aircraft from Australia, New Zealand and the U.S. aircraft will reportedly be joined by Chinese and Japanese planes over the weekend.
"Now it could just be a container that's fallen off a ship. We just don't know, but we owe it to the families, and the friends and the loved ones to do everything we can to try to resolve what is as yet an extraordinary riddle," Abbott reportedly said.
According to Reuters, India too is expected to send two aircraft -- a Poseidon P-8I maritime surveillance aircraft and a C-130 Hercules transporter -- to join the search in the southern Indian Ocean. It will also send four warships to search in the Andaman Sea.
Malaysia Airlines Flight MH370 went missing March 8, with 239 people on board, triggering a massive, international effort to locate the plane whose manner of disappearance has baffled governments and aviation authorities worldwide.
© Copyright IBTimes 2023. All rights reserved.
FOLLOW MORE IBT NEWS ON THE BELOW CHANNELS