UPDATE: Malaysia Airlines Flight MH370 Missing: Australian Search Operations Have Sighted Debris That Could Possibly Be Of Missing Airliner; Australian Officials Say Imagery 'Credible Enough' To Refocus Search Efforts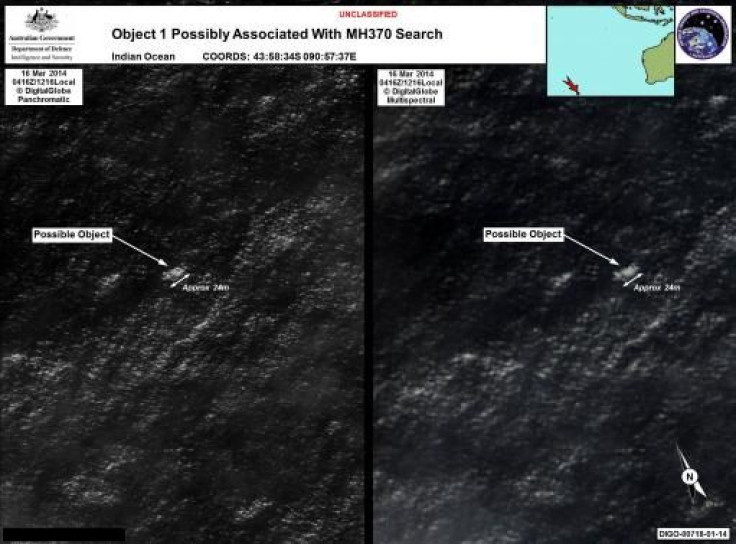 Update as of 12:30 a.m. EDT: Australian officials announced at a press conference Thursday afternoon local time that efforts to search for missing Flight MH370 are being refocused in a region of the Indian Ocean about four hours southwest of Perth.
Calling the satellite imagery "credible enough" to divert the search, officials noted that four planes are in the area and more -- including from the U.S. Navy and aircraft from New Zealand -- would join in the search effort as the day progresses. Officials also noted that commercial satellites would be called in to focus on the area to generate better images of the debris field and that a merchant ship is on its way to the site to assist in the search operations.
However, the officials warned that the objects may be difficult to locate in the vast ocean and that current weather conditions were hampering visibility.
"These objects maybe very difficult to locate and may not belong to the plane," an official told the media, adding that the largest object picked up by the satellite images measured about 24 meters. "We'll continue [the search] until we can locate the object or we can confirm" that they do not belong to the missing plane, he said.
Officials estimated the depth of the ocean in the current search area to be "several thousand meters deep" and about four hours flying time from the city of Perth on Australia's southwest coast.
Australian search operations in the southern Indian Ocean are looking into two objects that could potentially be debris from the missing Malaysia Airlines Flight MH370, which went missing March 8 with 239 people on board and triggered an unprecedented international search effort for the airliner.
BBC reported Thursday, citing an announcement from Australian Prime Minister Tony Abbott, that an Orion aircraft has been dispatched to the location pinpointed by satellite images to locate and identify the objects to confirm if they indeed belong to the plane, which has been missing for nearly two weeks now.
"The Australian Maritime Safety Authority has received information based on satellite information of objects possibly related to the search," Abbott said, according to BBC. "Following specialist analysis of this satellite imagery, two possible objects related to the search have been identified."
© Copyright IBTimes 2023. All rights reserved.
FOLLOW MORE IBT NEWS ON THE BELOW CHANNELS