Malaysia's First 'Islam Compliant' Airline, Rayani Air, Takes To The Skies, Starting With Muslim Prayer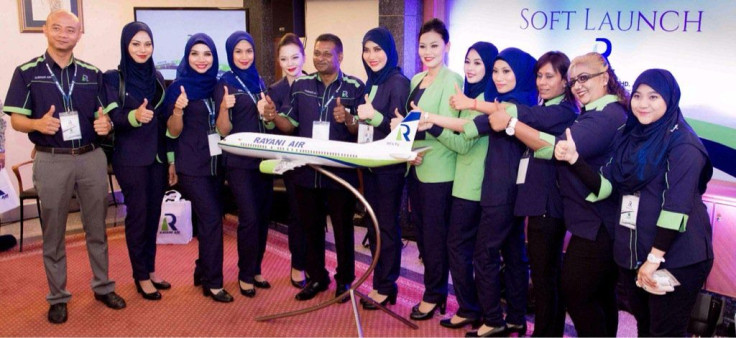 The besieged Malaysia Airlines may have dominated the headlines in the last year, but a new airline from the southeast Asian country took off this weekend -- and it's based on a strict adherence to Islamic customs. The new low-cost carrier Rayani Air, which calls itself the country's first "Islamic" airline, focuses on Islamic rules and customs from takeoff to landing.
Muslim prayers are recited before flights, there is no alcohol or pork served on board and the Muslim women flight attendants adhere to a modest dress code.
Ironically, the founders of the airline are not Muslim: Ravi Alagendrran and wife Karthiyani Govindan, a Hindu Indian couple, launched the service after many conservative Muslims in Malaysia said the two Malaysia Airlines recent disasters were punishments from God for not adhering to Islamic values. Malaysia Airlines Flight 370 went missing in March 2014, while Flight 17 was downed in an apparent attack over Ukraine a few months later. Alagendrran and Karthiyani melded parts of their first names to create "Rayani."
Malaysia is a Muslim-majority country, where about 60 percent of the population of 30 million practice Islam.
"This is not a matter of segregation. We have a target market and anyone wishing to travel in a modest and alcohol-free environment will feel right at home," Ravi told the Malay Mail.
One passenger told the Associated Press that she was flying the airline precisely because of its emphasis on Muslim values.
"It's quite important for me because first of all, I am a Muslim, and second, Malaysia is an Islamic country," said Che Masnita Atikah, a 23-year-old student aboard one of the airline's first flights. "It's quite important to have this kind of airline to represent Malaysia and its image as an Islamic country."
Rayani isn't the first airline to comply with Muslim standards. Royal Brunei Airlines, Saudi Arabian Airlines and Iran Air all follow similar practices like prayer recitation, serving halal food and enforcing a dress code for flight attendants.
"We are answering the call of many Malaysians who wanted an Islamic airline," Jaafar Zamhari, Rayani's managing director, told the Associated Press. "We are not talking about being a holy airline or flying to holy destinations. We just want to provide an alternative to travelers, but we are open to all races and religions."
© Copyright IBTimes 2022. All rights reserved.
FOLLOW MORE IBT NEWS ON THE BELOW CHANNELS