Malcolm X Assassination: Facts About Human Rights Icon's Death, After 53 Years
Human rights activist and famous Black Nationalist leader Malcom X, who was the spokesman for the Nation of Islam (NOI) — an African-American political movement — during the 1950s and 60s, was assassinated on Feb. 21, 1965.
According to the site Biography, Malcolm X was naturally gifted with oratory skills. He urged black people to escape from the shackles of racism by "any means necessary," which included resorting to violent methods. Malcolm X's contribution helped increase the members of the NOI from only 400 in 1952 to 40,000 by 1960.
However, the civil rights activist separated himself from the NOI just before his assassination on Feb. 21, 1965 in Manhattan.
According to a report by the New York Times in 2012, Malcolm X was fatally shot by assassins who were black Muslims. The assassination took place when he was addressing an organization of Afro-American Unity at the Audubon Ballroom in Harlem. He was 39 at the time of his assassination.
The Times report said that in the 1960s Malcolm X was not in favor of Elijah Muhammad, who was the leader of NOI, on issues regarding how the organization ran at the time. In 1963, Muhammad suspended Malcolm X from the NOI because of his comments on the assassination of then-President John. F. Kennedy. Malcolm X described Kennedy's assassination as an example of "the chickens coming home to roost."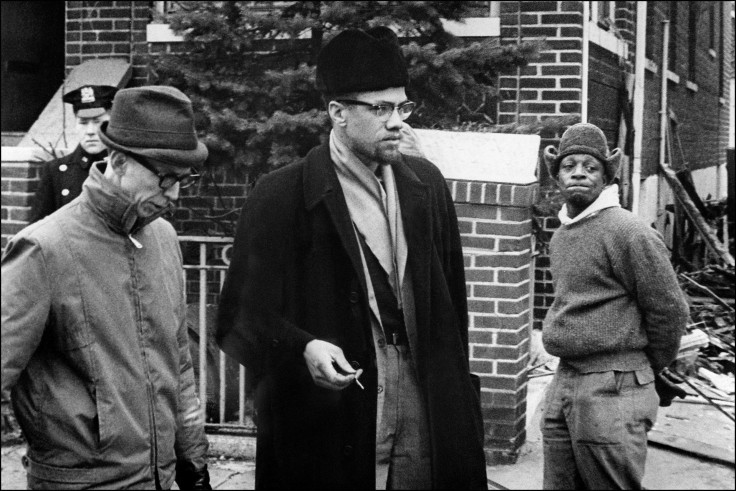 Malcolm X got numerous death threats from NOI after breaking off from the group. In an interview with the Times on Feb. 18, 1965, he said referring to those threats, "I'm a marked man. It doesn't frighten me for myself as long as I felt they would not hurt my family... No one can get out with out trouble, and this thing with me will be resolved by death and violence."
Just a week before his death, Malcolm X's residence in Queens was set on fire. He and his family, who were in the house at the time of the incident, survived with no injuries.
According to reports, as soon as Malcolm X started to greet the people at Audubon Ballroom, three men — identified as Thomas Hagen, Thomas Johnson and Norman Butler — approached the stage and fired multiple shots at the activist from a close distance. Malcolm X was shot seven times, and he was declared dead at the Columbia Presbyterian Hospital the same evening.
Hagan, Johnson and Butler were each sentenced to 20 years in prison on charges of murder. Only Hagan confessed to the crime, while the other two pleaded not guilty. According to a report by CNN in 2010, Johnson and Bulter were released in 1980s. Hagan was put on work release in 1988 and was allowed to meet with his wife and children outside the minimum security prison in Manhattan.
Hagan, in an affidavit in 1977, said that he along with several accomplices (not including Johnson and Butler) had decided to kill Malcolm X because of his hypocrisy in going against Muhammad.
However, Muhammad in a speech after Malcolm X's death, said that it was not black Muslims who were responsible for the political activist's death. Defending the NOI, Muhammed said that the members were prohibited from carrying guns.
Muhammad also said in his speech: "Malcolm [X] favored the carrying of arms and was, therefore, a victim of what he preached." He also expressed his shock over Malcolm X's death and stated that the reason why NOI and Malcolm X separated was because of the differences regarding firearms.
© Copyright IBTimes 2023. All rights reserved.