Mardi Gras King Cake Recipes: Healthy And Traditional Options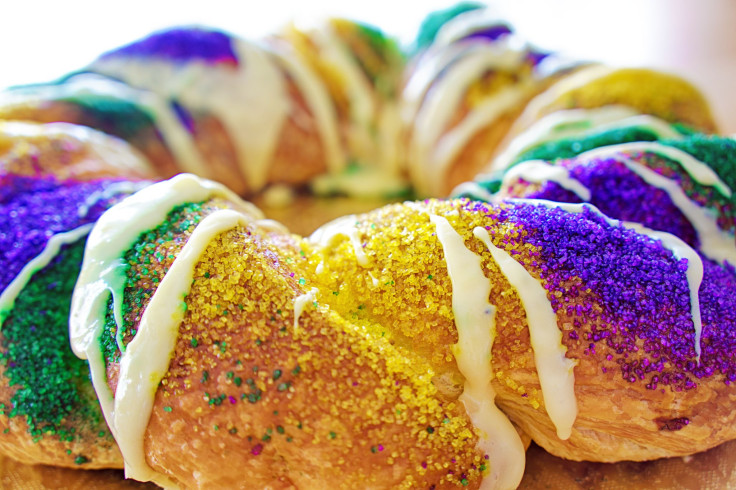 Sprinkled with colored sugar in vivid hues and folded into into a ring, King Cake is the standard dessert of Mardi Gras, the pre-Lenten holiday of feasting and merriment. With its cinnamoned dough and brilliant decorative icing or sugar -- purple for justice, green for faith, and gold for power -- the King Cake is the perfect excuse to throw a party.
As with all things traditional, variations have emerged over the years, so below are three different recipes: traditional King Cake, a richer version filled with cream cheese, and a healthier option, though few would never guess by looking at it. No matter the recipe, the most important addition to keep in mind is the baby -- usually small and plastic -- that is tucked under the cake, representative of the baby Jesus.
1. Traditional King Cake has a fragrant, nutmeg-laced pastry, with a crumbly, buttery mixture of brown sugar, cinnamon, nuts and raisins layered between folds of dough.
2. Buttermilk King Cake with Cream Cheese Filling: Buttermilk added to this King Cake's sweet dough makes it that much richer, but the real game-changer here is a cream cheese filling. It still has lingering traces of vanilla and nutmeg but makes for an entirely different cake, given the filling's smoothy, buttery texture.
3. King Cake: The healthy edition (challah bread): In this twist, challah, a sweet traditional Jewish bread, substitutes for the usual cinnamoned King Cake dough. Plenty of eggs help give challah a consistency that is almost like a croissant, at least compared to other breads. It's a great alternative for those looking to cut back on sugar. Bake the challah into rings, then coat with lemon-sugar icing as desired. (For icing, mix 2 cups powdered sugar with 2 tablespoons of lemon juice and 1 tablespoon of milk. Divide into three batches and separately color with green, purple, and gold or yellow. Or, leave the icing as is and sprinkle green, purple, and gold decorating sugar on the cake after icing.)
4. Super Easy King Cake takes about a quarter of the time most recipes do. Totaling about an hour and fifteen minutes, this is probably the best bet for anyone who has left party prep to the last minute and needs to bake a King Cake in less than two hours.
© Copyright IBTimes 2022. All rights reserved.
FOLLOW MORE IBT NEWS ON THE BELOW CHANNELS