Marijuana Cryptocurrencies: 5 Coins To Invest In 2 Emerging Industries
Cannabis cryptocurrencies – colloquially called weed coins – as the name implies, are tokens by the marijuana industry, often targeting the cannabis community. Pot is now completely legal in Canada and Uruguay, and several states in the United States. Consumption of marijuana for medical use is legal in some other states, and also in countries like the Czech Republic and Israel.
The cannabis market is one of the quickest growing markets in the U.S. but is held back by federal laws that still consider it an illegal drug. That creates problems for the industry to raise money, which is where cannabis cryptocurrencies enter the picture. These so-called weed coins intend to change the nature of the medium of payments for the legalized cannabis industry, since traditional banking systems have barriers for the business.
This coming together of the booming marijuana industry and cryptocurrencies could present an investment opportunity, which like any other investment, comes with its own risks. But in case you are interested, here are the top five weed coins in the market, ranked by their market capitalization value.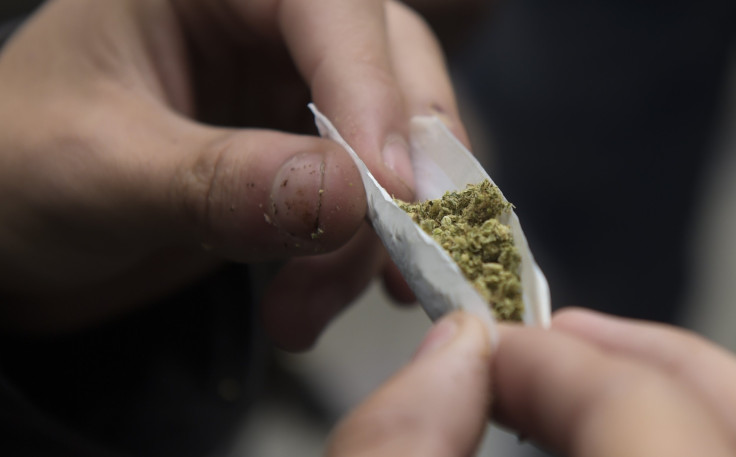 PotCoin
PotCoin is a banking solution for the $100 billion global legal marijuana industry. Established in 2014, PotCoin is a Canadian coin used to pay for goods and services. It is the first cryptocurrency designed to facilitate the underserved legal marijuana industry with a decentralized banking infrastructure and payment solution.
PotCoins allows cannabis enthusiasts to interact, transact, communicate, and grow. The PotCoin website says: "Using PotCoins, industry members will realize significant cost savings, scalability, and unparalleled enterprise security".
In April, PotCoin proudly announced on its website the actor Charlie Sheen had partenered with it to join the cannabis industry with the launch of a THC vape line called SHEENIUS.
One can buy, sell, and trade PotCoin using PotWallet and other crypto exchanges like Bittrex and CoinExchange. PotCoin's current ranking is at 323rd among all cryptocurrencies in terms of market cap. It is currently trading at $0.046, with a market cap of about $10 million.
HempCoin
HempCoin was launched in 2014, with its focus less on individuals using it to buy weed and more designed toward being used by marijuana growers and medical-recreational dispensaries.
HempCoin's website states the currency can be used to "facilitate transactions between marijuana farmers and the local dispensary shops" as well as purchasing gear and tools used for growing marijuana.
HempCoin's vision "is to achieve mass adoption in the agriculture sector by offering solutions that tackle the issues plaguing cross-border transactions".
HempCoin trades at price of $0.028 with the market cap of $60 million, ranking at 405, as tracked by CoinMarketCap. At present, the currency trades on Bittrex.
DopeCoin
DopeCoin is an open source peer-to-peer cryptocurrency that's designed specifically for the cannabis industry in providing an online financial network that people can use to send payments. No one owns or controls the DopeCoin network, which works on a peer-to-peer structure and functions by using hundreds of computers all over the world to create its online infrastructure.
Recently, DopeCoin (DOPE) and the Smoke Exchange (SMX) built an infrastructure that seeks to use cryptocurrency to solve one of the legal marijuana industry's biggest challenges, which is the restricted access to quality advertising channels that meet and serve the industry's needs.
DopeCoin sells at a price of $0.012. The currency has a market cap of $1 million and ranks 782.
CannabisCoin
In 2014, CannabisCoin (CANN) was designed to help sick people acquire medical marijuana. It was determined that one CANN would be worth one gram of cannabis, as a part of the promoters' "Yes We CANN" campaign. Under the name 'CANNdy' there is a line of medicines and marijuana strains grown for the specific purpose of exchanging at the promised rate.
CannabisCoin aims at easing transactions for medical marijuana dispensaries. The currency trades at $0.015 with a market cap of more than a $1 million and ranks 823.
CannaCoin
CannaCoin runs on a decentralized blockchain using Peer2Peer tech. The currency was also developed in 2014. Cannacoin, as described by its founders, is "a group of cannabis enthusiasts working towards the future development of cryptocurrency applications related to cannabis production, seed production, extract production, glass blowing facilities, vape and dab station manufacturing, crypto development, and more."
CannaCoin has a price of $0.018 and a market cap of a mere $85,037, indicating the wide lead the top two weed coins have over the rest of the pack.
© Copyright IBTimes 2023. All rights reserved.
FOLLOW MORE IBT NEWS ON THE BELOW CHANNELS