Marijuana Industry: Congress Helping Pot Growers Become More Attractive Partner For Banks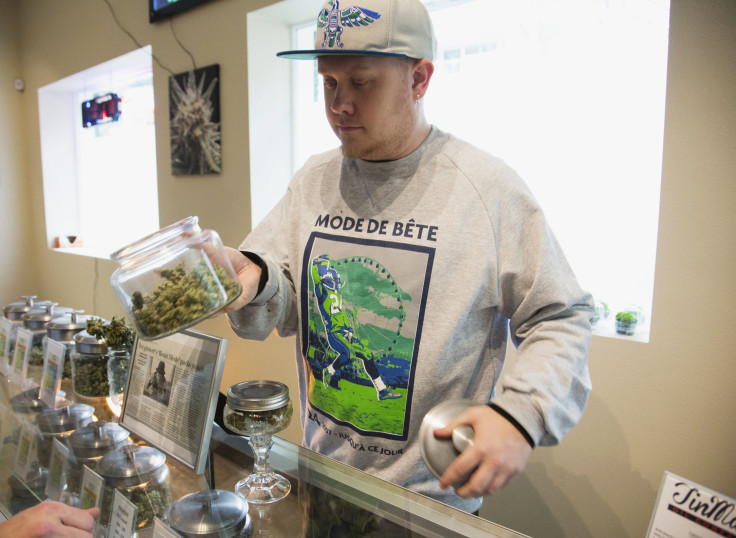 Ata Gonzales has been in the medical marijuana business for years, growing top-grade weed and distributing it through a collective of California patients, but state regulations barred him from making much money from the enterprise.
So when the people of Washington legalized the drug for recreational use in November 2012, he expanded his business -- called GFarmaLabs -- to Yakima, in the state's agricultural heart, hoping to finally begin to turn a real profit in the pot trade.
But the legal marijuana business is still a difficult one in which to prosper, and as Gonzales attempted to expand his operation, he found that he was unable to secure basic financial services. Banks were largely reluctant to work with the industry, as marijuana is still classified by the federal government as a Schedule 1 drug.
Gonzales had no other option than to store and transport large amounts of cash, a situation that left him feeling unsafe and vulnerable to robberies and other crimes. He also couldn't accept credit card payments or start certain types of accounts. The federal executive branch released a number of "guidances" over the past year to provide financial institutions with more certainty, but banks still wouldn't work with Gonzales and many other pot entrepreneurs.
"It's not only a problem because it's cash money that we can't put in the bank. It's also a danger to me and my children because people know we have cash money," he said in May.
"If we could accept credit cards, we wouldn't have to have as much cash money and robberies wouldn't be as much of a problem. But banks won't take any cash from a dispensary -- not in California and not in Washington yet."
But that may finally change. On Wednesday the U.S. House passed the Heck-Perlmutter-Lee-Rohrabacher amendment -- or "Heck amendment" -- to the H.R. 5016 spending bill by a vote of 231 to 192. The amendment blocks the Securities and Exchange Commission and Treasury Department from spending money to penalize banks and other financial institutions for working with pot businesses that do not break state law.
The move bolsters the Obama administration's earlier attempts to address the financial access issue, which did not have the force of the law behind them. Last August, the Justice Department released an update to its federal marijuana enforcement policy that stated it would rely on states to enforce and regulate most use and sale of marijuana in states where it is legalized. And in February, the Treasury and Justice Departments released new guidelines aimed at making it easier for cannabis businesses in states that have legalized such entities to obtain financial services, and for banks and other financial institutions to provide them.
These steps provided some additional protections and a higher level of certainty, but experts on marijuana law say they were not enough to get banks on board with the pot industry because they didn't eliminate the potential for future prosecutions.
"Banks are reluctant to lend money because these businesses are in violation, technically, of federal law. Marijuana is a Schedule 1 drug. What the Obama administration has done is issue guidelines to give the banks comfort they won't be prosecuted if they loan money to the marijuana business. But the guidelines do not grant immunity from prosecution or civil penalties for banks," Samuel Levine, a partner at the Chicago law firm Arnstein & Lehr LLP with experience in marijuana law, said in May.
"One of the most important things that can be done at the federal level is for the government to facilitate -- by more than just government guidance -- the ability of lenders to lend money to legitimate businesses without having to worry about prosecution."
Congress seems to be moving towards such a fix. The Heck amendment -- named for Rep. Danny Heck, a Washington Democrat -- "stops banking regulators from penalizing financial institutions for providing services to marijuana-related business that operate according to state law," according to a July 16 letter signed by Heck and six other sponsors.
The Wednesday vote follows Congress's "passing an amendment in June to defund the DEA's ability to enforce federal marijuana laws in medical marijuana states in a way that interferes with the medical marijuana laws," the letter explains. And in another Wednesday vote, the House rejected an amendment to H.R. 5016 introduced by Rep. John Fleming, R-La. The provision would have overridden the Treasury Department's February guidance.
If the Heck amendment is codified into federal law, it will also provide relief for businesses that don't actually produce or distribute marijuana, such as Apeks Supercritical. Based in Ohio, the company manufactures botanical oil extraction equipment that is used by purchasers for a number of purposes, one of which is the creation of marijuana oil.
Andy Joseph, president of the company, said in May that though his company never actually touches marijuana, he has faced major problems with banks who shun firms with any connection to the pot industry.
"Because we're in Ohio, most of our customers are in California, Colorado or other states, and we didn't want them transporting large amounts of cash. So I opened a bank account for them to make deposits into," he explained. "The bank came back in 2013 and said there have been too many deposits and it looks like structuring -- money laundering -- so they shut us down."
Joseph has no proof that concern about the connection with the marijuana industry drove the bank to cut ties with Apeks, but he said he has "been turned down by multiple banks for loans to expand my operations because of the fact that I make money from the cannabis industry."
The prevailing trend now seems to be toward providing greater certainty and legal protections for the pot business. That makes sense given the swift spread of legalization, as 23 states and the District of Columbia have approved the distribution of pot for either medical or recreational uses.
"I see a really bright future, but I see a challenge for publicly traded companies that are deriving revenue from a Schedule 1 narcotic," Justin Hartfield, president of Ghost Group, a subsidiary of Emerald Ocean Capital, which bills itself as the nation's first marijuana-focused venture capital company, said in May. "Without changes to the laws, the industry can't grow. That's a fact. It's an inherently political industry."
© Copyright IBTimes 2022. All rights reserved.
FOLLOW MORE IBT NEWS ON THE BELOW CHANNELS