Marley Natural Launch Ushers In The Era Of Celebrity Cannabis. Is It The Best Way To Market Marijuana?
How fitting for Bob Marley's birthday.
On Saturday, with a celebrity-studded party in the Hollywood Hills and glitzy marketing events at Los Angeles dispensaries, Marley Natural, the so-called first global cannabis brand, will launch its first product lines at medical marijuana shops in California.
The debut was a long time coming: The Marley Natural brand, a partnership between the family of the reggae legend and the Seattle-based marijuana private equity firm Privateer Holdings, made international news when it was announced in November 2014, even though there weren't any products yet. Now the merchandise is finally here: luxurious hempseed-based body care products, elegant smoking accessories featuring black walnut wood and, of course, carefully grown marijuana strains, each emblazoned with the name of the world's most celebrated marijuana aficionado, and all of it hitting the shelves on what would have been Marley's 71st birthday.
While it may be the most prominent example, Marley Natural is far from the only celebrity-branded marijuana product hitting the market. There are already Leafs by Snoop marijuana and edibles, cannabis-infused wine tinctures from Melissa Etheridge, and soon-to-be-launched offerings from Willie Nelson. Next up could be cannabis products marketed around the Doobie Brothers, Jefferson Airplane, Kiss and Woodstock, courtesy of a new partnership between the Bloom Cannabis Group consulting company and the licensing and merchandising firm Epic Rights.
Branding marijuana with famous names makes sense both legally and financially. But is there substance behind the hype? The Denver Post's marijuana reviewer called Snoop Dogg's offerings "a novelty that digressed into an aberration," and Willie Nelson apparently can't tell the difference between Indica and Sativa strains, the two major types of marijuana. And while Marley Natural promised to showcase "heirloom Jamaican cannabis," because of regulatory restrictions and brand concerns, the marijuana going on sale is actually from unnamed farms in Northern California — and the amount of effort the company expended to locate and develop these sources hints at just how difficult it is to find meaningful connections between marijuana brands and the product itself.
This inconsistency makes some people wonder: In an industry fragmented by isolated state markets and inundated with endless varieties of locally tailored marijuana products, is celebrity-branded cannabis worth the time and money? And will the future of marijuana marketing be focused on the famous name on the package, or what's inside?
"I don't think [celebrity branding] is going to be a very effective mechanism," says Sam Znaimer, an active cannabis angel investor. "As long as there's no national legal market, we are going to see the evolution of bottom-up, locally branded products. I have no horse in the game, but I don't think hiding behind a rapper's brand or Bob Marley's legendary status is going to help organizations all that much."
Bob Marley-branded merchandise isn't new. Marley's heirs have licensed his likeness for T-shirts, coffee beans, headphones and even energy drinks. But this is the first time the reggae singer, who died in 1981, has been officially attached to the product with which he's most closely associated. It's why Privateer spent years courting the Marley family before announcing the 30-year licensing partnership.
While the specifics of the deal haven't been disclosed, both sides of the partnership boast hefty financial firepower. Marley's estate has been valued at $130 million, and a month after the deal, Business Insider reported that Privateer was raising a $75 million Series B round, with a $425 million pre-money valuation.
"When you think about global cultural icons who are associated with cannabis, no one even comes close to Bob Marley," says Privateer CEO Brendan Kennedy. "It was the right brand, the right person, at the right time."
Using superstars to sell cannabis makes sense. In the still-nascent market, consumers haven't yet developed lasting product and brand preferences, and the fact that many communities and social networks frown on marijuana advertising means it's hard for any products to stand out from the increasingly crowded pack. "Producers are struggling to differentiate their products from one another," says Znaimer. "Celebrity brands are an easy way to try to give them a kick in the marketplace."
Celebrities offer another benefit: Ready access to cash in an industry that, thanks to the federal prohibition, has limited access to bank loans and other forms of traditional capital. "Celebrities have the financial backing to fund a company, and often have an entrepreneurial spirit, because they have worked so hard to get to where they are," says Olivia Mannix, co-founder of the marketing firm Cannabrand.
There's also legal incentive to build star power into a marijuana brand: So far, the U.S. Patent and Trademark Office has refused to issue trademarks for marijuana-based products (although Colorado, Washington and Oregon have granted state-level trademarks). Rights of publicity — the ability of people to commercialize their name or likeness — are easier to license and enforce, meaning they could be a safer way for marijuana ventures to safeguard their intellectual property, says Alison Malsbury, a Seattle attorney with the Canna Law Group. Plus, if the federal government begins issuing marijuana-related trademarks, common descriptive product names involving terms such as "cannabis," "weed" and "green" likely aren't distinctive enough to warrant protection.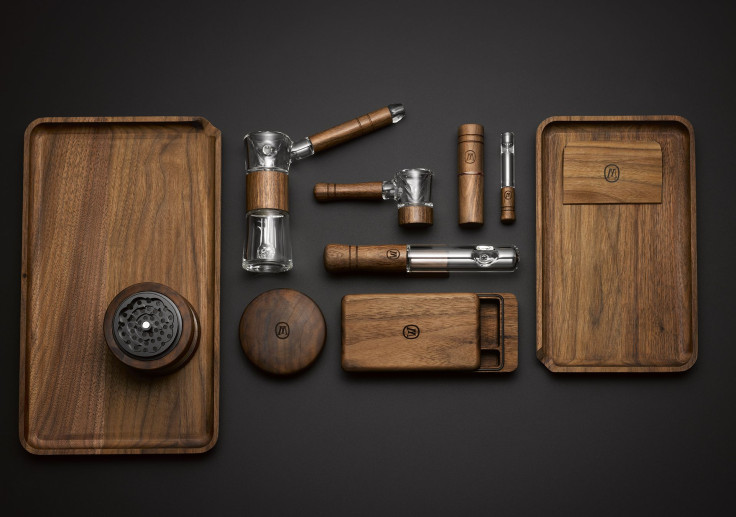 "It's very easy to fall back on a descriptive mark, because it does some of the work for you — by telling the customer what the product is," says Mary Shapiro, a San Francisco trademark lawyer who works with marijuana ventures. "But those are very weak trademarks. I counsel clients to specifically choose a mark that is unique."
Celebrity brands don't just benefit the companies that licensed them; they also help cannabis consumers looking for familiarity and consistency. "People buy Jack Daniel's partly because of how it tastes, but also because it's predictable," says Sam Kamin, marijuana law professor at the University of Denver. "The Jack Daniel's you buy in Tokyo is the same you will buy in Denver. Marijuana isn't there, and it won't be there for a while." Brands like Marley Natural might be a step in the right direction.
And what better celebrities than musicians to market marijuana? For better or worse, rock stars and rappers have been associated with cannabis for decades. It's why Bloom Cannabis Group is working on cannabis products designed around "legacy brands" like the Doobie Brothers and Jefferson Airplane. "So many people in the entertainment industry have had synergy with the cannabis plant for decades," says Bloom co-founder Gaynell Rogers. "We see all these celebrity brands like tennis shoes and housewares, but these are often based on financial relationships. Artists seek something more, a true, meaningful message about the brands that will bring a true story arc to their fans and audiences."
These musicians' story arcs aren't simply about partying and getting high. Melissa Etheridge put her name on a marijuana-infused wine tincture and will soon launch other cannabis-related products and efforts through her new company, MedRock Partners, because of her experience using medical marijuana when she was diagnosed with breast cancer in 2004. "The effort and marketing behind her celebrity is about her experience," says Deborah Klein, Etheridge's manager. "People listen to her. She has the power to change hearts and minds."
As the most prominent member of the Jamaica-based Rastafari religion, which embraces the spiritual use of cannabis, Bob Marley's story arc closely aligned with marijuana. It's why the original marketing efforts for Marley Natural included videos of verdant Jamaican hillsides and a press release promising strains that were "some of Bob's Jamaican favorites."
It turned out delivering on those promises wasn't so easy. The team behind Marley Natural spent months trying to develop production sources in Jamaica, which legalized medical marijuana last year, but eventually decided it had to look elsewhere. "Unfortunately their regulations haven't emerged, haven't evolved yet to allow an alliance like this in Jamaica," says Privateer CEO Kennedy.
Instead, the company began scouting for sources in the United States to produce the sort of all-natural, sun-grown cannabis they were hoping to create on the island, finally settling on a half dozen farms in Humboldt County in Northern California. "There is probably no team in the world that has been to as many cannabis grows, as many dispensaries, as many retail locations, as our team has been to," says Kennedy. Still, of the breeds they identified and cultivated on the Humboldt County farms that fit into Marley Natural's four general "strain categories" — Marley Green, Marley Gold, Marley Red and Marley Black — only one, Blue Mountain Fire, features genetics based on Jamaican varietals.
What's more, despite the time spent identifying their cannabis sources, Marley Natural isn't disclosing details on the farms it selected to produce its marijuana products, which will sell for about $50 for 3.5 grams of loose-leaf marijuana and $40 for a 500-milligram cartridge of cannabis oil.
"It's a challenging industry to source any product, and we spent so much time and energy sorting through so many bad players or producers of lower-quality products to find the ones that we wanted, we are not interested in sharing that information with everyone," says Kennedy, who adds the secrecy is also about respecting the sensitivities of marijuana farmers who are just now going legit: "They are not used to what I would describe as normal businesses practices in any other industry, whether it's signing a legal contract, or putting together a purchase order, or commitment to quality and standards and testing ... We are helping them come out of the shadows and into the limelight."
But some people wonder whether there's a disconnect between the Marley Natural brand and its products. "The thought that you could just stick a celebrity's name on a product and the product will sell is ridiculous," says Travis Belcher, CEO of Julian Marley JuJu Royal, a line of marijuana vape pens developed in partnership with Marley's son Julian. "We are in the trenches with our partners, Julian is selecting the strains, we have turned down two or three harvests since we went into business. I don't know what [Marley Natural's] brand is. But if you have a great product, you would think you would want to showcase the farm and where it comes from."
Marley Natural is still sourcing botanical ingredients for its body care lines from Jamaica and is contributing to Jamaican nonprofits as part of its "Rise Up" philanthropic initiative. But some Jamaicans are disappointed that there's not more windfall from a product so closely tied to Marley's roots. "All blessings and success to them," says Rastafarian journalist Barbara Makeda Blake Hannah of the Marley family's endeavors. "But what I would like to see is as they continue to branch out into more and more Marley products is to contribute a small percentage of the royalties, I would say 5 percent, to the Rasta nation from which Bob's inspiration came."
Others wonder whether Marley Natural fits into Marley's Jamaican legacy at all. "The key beneficiaries will be U.S. corporate investors, not ordinary Jamaicans, and it's not hard to imagine what Bob Marley would have thought about that," says Steve Rolles, a senior policy analyst for the British drug policy foundation Transform. "It feels like, once again, money from a new opportunity will be leeched out of a developing country into the pockets of rich Western interests. It would be great to see emerging legal cannabis markets as an opportunity to buck this trend for Jamaica, but this doesn't feel like that at all."
Kennedy insists every effort has been made to ensure Marley Natural's product lines correspond with its namesake's ideals. "It's important that the products we produced are the highest quality and exceed everyone's expectations," he says. "It's why it took so long to get all of the products produced and designed. We are trying to do something that is just so different from what is available today."
But such efforts hint at another challenge for Marley Natural: Later this year the company aims to expand to recreational and medical marijuana markets in Colorado, Oregon, Washington and Nevada. But in each state it will have to relaunch its marijuana sourcing and production process, since it is illegal to transport cannabis across state lines. "It's not like this is Burgundy and they have found the perfect place to grow Burgundy grapes," says Kamin at the University of Denver. "You can't produce in one place and ship nationwide. That's going to make it really tough to have consistency."
In other words, it's far from certain that ventures like Marley Natural will be able to deliver on creating a successful global celebrity cannabis brand as promised. For some people, failure to do so wouldn't be a bad thing. After all, not everyone likes the idea of marketing campaigns promoting the use of an intoxicating product, especially campaigns that feature celebrities who appeal to impressionable youth. "I think the concern is that kids love Snoop Dogg," says Kamin. "If they see Snoop in his music videos smoking weed, they are going to want to smoke the weed that Snoop does. And every college student buys the Bob Marley album 'Legend.' Is Marley Natural trying to appeal to that demographic?"
Those behind Marley Natural say they aren't aiming to take over the cannabis industry, and that there will be room in the market for big and small names alike. "The evolution of the cannabis market is going to be built on brands," says Tahira Rehmatullah, Marley Natural's general manager. "But I think it is going to be all different brands at all levels and all tiers. There will be celebrity endorsements and family-grown products."
It's why Steve Dillon, executive director of True Humboldt, a marketing collective of Humboldt County marijuana growers, welcomes Marley Natural's efforts in his region, even if the names of the company's farmers are currently under wraps. "It does nothing but boost our name," he says. "We think the celebrity route is going to do well, but we in True Humboldt are going the other route, which is based on quality and provenance. We believe there has been a whole group of people who haven't been smoking because it's illegal. And as those people slowly come back to the market, they don't necessarily want to be waving around a Rasta flag. They want to say, 'Our food is clean and healthy and comes from small farms and we want the same thing from our cannabis.' "
And it's why Wanda James, owner of Simply Pure, a marijuana shop in Denver, recently started selling edibles made by Leafs by Snoop, even though so far she's been less than thrilled with celebrity-branded marijuana. "For the amount of money and love they have put into the packaging and marketing, it would have been nice if the product was the most mind-boggling awesome product out there," she says. "While I think the products are good, I think there are better local products out there."
Still, she figures such product lines will sell, maybe simply as novelty items for bachelorette parties. After all, she says with a smile, "Not everything in pot has to be serious. Sometimes it can be fun."
© Copyright IBTimes 2023. All rights reserved.
FOLLOW MORE IBT NEWS ON THE BELOW CHANNELS