Marysville-Pilchuck High School Shooting: Gia Soriano, Second Victim Dies, Two Others In Critical Condition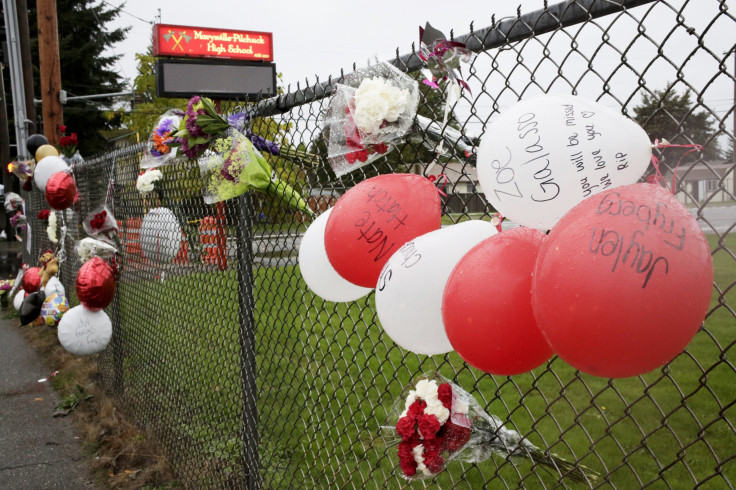 Gia Soriano, a 14-year-old victim in Friday's lunchroom shooting at Marysville-Pilchuck High School in Marysville, Washington, has died, media reports said, citing a hospital official late Sunday. Soriano was being treated for head injuries at the Providence Regional Medical Center in Everett and had been in critical condition.
Jaylen Fryberg, a 15-year-old high school freshman, opened fire in the school cafeteria, killing one girl and shooting four other students in the head, including Soriano. Fryberg subsequently died of a self-inflicted gunshot wound. Two of the injured students are currently in critical condition and one is reportedly in serious condition. The three injured have been identified as 14-year-old Shaylee Chuckulnaskit, 15-year-old Andrew Fryberg and Nate Hatch, 14.
"We regret that Gia Soriano, age 14 years, passed away tonight as a result of her injuries," the Everett hospital said in a late-night statement. "Despite the tremendous efforts of our caregivers, unfortunately the trauma injuries were extensive."
Dr. Joanne Roberts released a statement on behalf of Soriano's family.
"We are devastated by this senseless tragedy. Gia is our beautiful daughter and words cannot express how much we will miss her. We've made the decision to donate Gia's organs so that others may benefit. Our daughter was loving, kind and this gift honors her life," the statement read. "We ask that you please respect our privacy and give us the space and time we need to grieve and spend time together as a family in memory of Gia."
The hospital invited the community to join it in a moment of silence on Monday at 10:39 a.m., which coincides with the time of Friday's shooting.
Chuckulnaskit is being treated at Providence and remains in critical condition. Hatch and Fryberg, both cousins of the shooter, who was a member of the Tulalip tribe, are being treated at Harborview Medical Center in Seattle. The motive behind the shooting rampage remains unclear.
© Copyright IBTimes 2023. All rights reserved.