McDonald's Reports 30% Drop In Third-Quarter Profit After Chinese Meat Scandal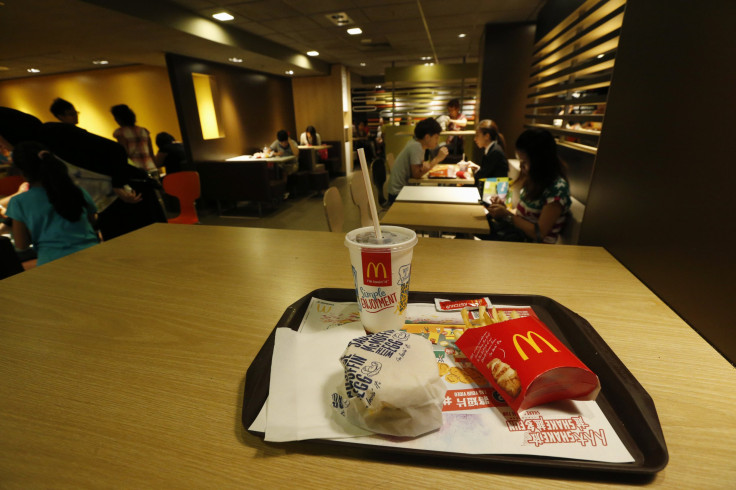 McDonald's' profit fell by 30 percent in the third quarter from a year earlier after Chinese authorities accused a supplier of intentionally selling expired meat to McDonald's and other fast-food outlets during this summer, the company said Tuesday. Global sales and U.S. sales each dropped 3.3 percent over the quarter compared with a year ago, reflecting a decline across all major markets.
Quarterly earnings fell to $1.07 billion, or $1.09 a share, from $1.52 billion, or $1.52 a share, a year ago.
"By all measures, our performance fell short of our expectations," CEO Don Thompson said in a statement. The results for the July to September period reflect a "significant decline" compared with a year ago, due to a higher effective tax rate, "underperformance" in the U.S. market and "unusual events" in Europe and Asia, he said.
An investigative report in late July found that workers for supplier Shanghai Husi picked up food, including McNuggets sold at McDonald's, from the floor and threw it into processing machines until it passed inspection. McDonald's recalled meat from its Chinese restaurants and suspended the supplier after the report by Shanghai-based news company Dragon TV accused Shanghai Husi of altering the expiration dates on its meat products sold to international fast-food chains. In August, McDonald's reported its worst monthly sales results in more than a decade.
Customers, journalists and food industry groups have long questioned the quality of the restaurant chain's meat. In 2011, McDonald's discontinued the use of ammonia-treated beef in its hamburgers. And in 2012, the company discontinued the use of boneless beef trimmings in its burgers, a meat product dubbed "pink slime" by celebrity chef Jamie Oliver. The boneless trimmings, banned for human consumption in the U.K., are what is left over after the choice cuts are taken, and they often used for dog and chicken food.
McDonald's is losing customers to fast-casual eateries such as Panera and Chipotle, the best performer on the S&P restaurant index this year. The fast-food chain is trying to regain customers' trust and convince them that its beef is real. Last week, McDonald's released an online campaign with a video that asks if the fast-food chain's beef is real or has "lips and eyeballs" included in the trimmings. The video shows the inside of a meat supplier plant, asserting that there is "no pink slime" or "worm meat" in its beef.
© Copyright IBTimes 2023. All rights reserved.