Medium Rewrites Its Own Story And Gets Another Big Endorsement From The POTUS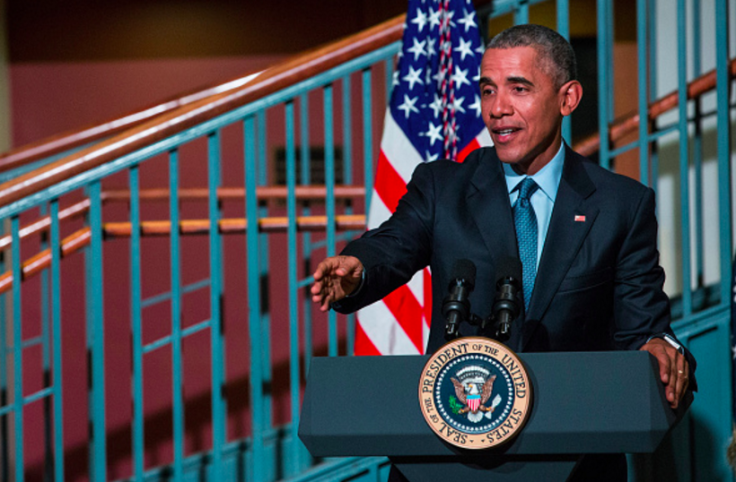 The Trans-Pacific Partnership -- the omnibus proposed trade deal between the U.S. and 11 other countries -- got a big endorsement from President Barack Obama Thursday. But so did Medium, the blogging service created by Twitter co-founder Evan Williams, which hosted all 30 chapters shared by the president's account.
Medium is already taking an outsized role in the 2016 race, and the fact that the president is using it to showcase the deal -- for which he's trying to marshal public support -- shows how far the startup has come.
Why Medium? For the White House, the deal meant a rewriting of modern trade relationships, a complex undertaking that defies political sloganeering. "It won't be the case that Medium is for every issue and every rollout, but using visuals and the way [the TPP] was presented, the chapter-by-chapter breakouts, it looks like a way to make it understood," said Nate Lubin, the former digital director at the White House. "An important part of the TPP conversation has been around transparency."
To understand it, you need to read it. And that's where Medium comes in. "The TPP means that America will write the rules of the road in the 21st century," the post from Obama's Medium account said.
"That's why I am posting the text of this agreement here for you to read and explore. There's a lot in here, so we've put together summaries of each chapter to help you navigate what's in the agreement and what these new standards will mean for you," Obama continued.
Obama's vision of a rewrite is not unlike what Medium has been pitching and successfully growing to be as the go-to information sharing site across several industries. Last month, the site became the fighting ground for Amazon and the New York Times over an exposé of the company published in August. First, it was Amazon's press head, Jay Carney, with a lengthy rebuttal, and then came New York Times executive editor Dean Baquet with the defense -- all posted on Medium, despite Baquet overseeing a news website. Only a year ago, Medium was touted by many in media as "not cool."
Medium has become a key part of the communications strategy in the 2016 race for the White House. No longer are politicians pushing information to their own campaign sites or to a news organization. Instead, Medium has become the new press release or treatise, but one that allows a back-and-forth, commenting and social sharing. Silicon Valley certainly sees potential: The San Francisco-based startup secured $57 million in new capital in October, led by big-name venture capital firms Andreessen Horowitz, Google Ventures and Greylock Partners.
And yet Medium has yet to find a scalable revenue model; indeed, it is proud of its lack of advertising. "We don't focus on page views, unique visitors or click metrics. We don't litter the platform with ads that are low-quality, high-clutter," Medium's operations head Andy Doyle wrote in a post about the recent funding round.
Medium has experimented with sponsored content, specifically under a publishing vertical called re:form. However, that section was closed as part of the restructuring in June. With the company's high valuation (now at about $400 million) and the money-grabbing success of Facebook, some are still pushing for answers to revenue.
"My question is how they are going to monetize. Will there be promoted posts, like in Facebook and Twitter?" wondered Rebecca Heisler, content director for the 2012 Romney campaign and now working for political ad firm Targeted Victory.
Empire Of Attention
Medium began without too much fanfare or too much disruption, noted David Byttow, the former CEO of anonymous app Secret, who also worked at Medium early on. "The first version of Medium that launched was actually very simple. It focused on the basics: writing, reading and making that experience great," Byttow said.
For the 2012 presidential election, Medium had caught the attention of the two front-runners. Republican candidate Mitt Romney's campaign was aware of the tool, Heisler said, but chose not to add it to its already full ecosystem of digital tools.
"By that time we were already juggling so many other pages. We saw the beauty in a blog, but we didn't want to confuse the constituents with other platforms," Heisler said.
Two years later, Medium has became a vehicle of information sharing for Barack Obama and the White House. At first, the use of the site was more of a simple copy-and-paste. Prior to giving the State of the Union speech, Obama's campaign released it in its entirety on Medium.com.
"We were constantly looking for new ways to get the word out and meet people where they are," Lubin said.
Rewriting Medium
Medium has undergone a rebranding as it works to build up the momentum. Last month, the company redesigned the logo. Medium also updated its apps on Android and iOS to make it easier to write, read and share posts. A new feature allows writers to "Mention" other users -- as in tagging them in posts, not unlike Facebook and Twitter.
Medium's rise hasn't been without bumps. In June, the company underwent a restructuring. Some full-time staff positions were cut and freelancing budgets were removed, Business Insider reported.
Medium CEO Williams wrote in an announcement about the changes that he saw it as the company's evolution. "Medium is not a publishing tool. It's a network. A network of ideas that build on each other. And people. And GIFs [yeah, we have those, too  -- not our specialty, though, to be clear]," he wrote.
Williams -- and his team of 90 as of May -- have continued to grow and push Medium's messaging across various networks. The company hired Matt Higginson, formerly youth mobilization director of the ONE campaign, for outreach in politics, government and advocacy, in March.
While campaigns -- or any publisher -- could pay to promote a Medium post that is shared on Facebook or Twitter, that revenue will funnel to the social networking sites and not to Medium itself. Additionally, Medium continues to face competition from those social giants as Facebook experiments with Notes and Twitter CEO Jack Dorsey teases more ways to go beyond 140 characters.
FOR FREE to continue reading
✔️ Unlock the full content of International Business Times UK for free
offer available for a limited time only
✔️ Easily manage your Newsletters subscriptions and save your favourite articles
✔️ No payment method required
Already have an account? Log in
© Copyright IBTimes 2023. All rights reserved.