Meek Mill-Wale Feud: Rick Ross Says 'Matrimony' Rapper Was Not Kicked Out Of MMG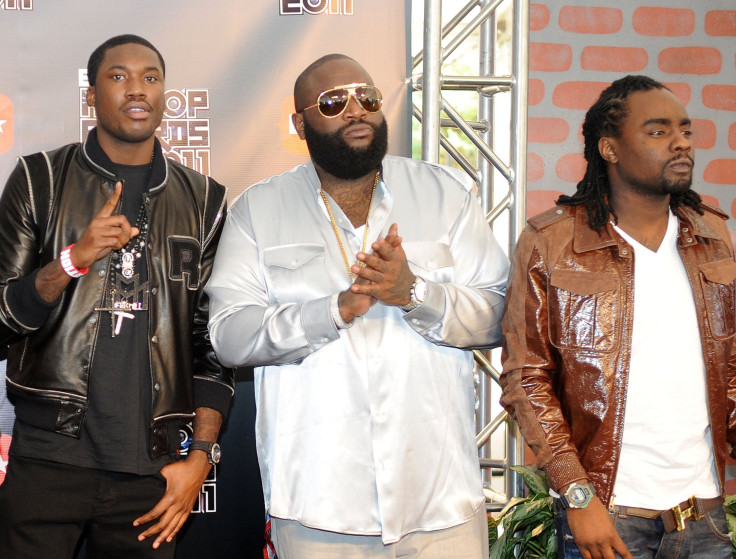 During Wednesday night's beef between Wale and Meek Mill, the "All Eyes On You" rapper told fans that Wale had been kicked out of Maybach Music Group (MMG). However, Rick Ross, who owns the label, is saying otherwise.
Wale and Mill's war of words started earlier this week when Wale said during a radio interview that he agreed Mill lost the battle with Drake. Wale went on to say that the Philadelphia rapper brought a "pencil to a gunfight," but noted that Drake's popularity helped him win the feud.
"You can't compete with people with those type of connections," Wale explained. "He could have wrote 'Ether 3.0.' The opinions of the people would have been that of their boy from Canada waxed him."
Apparently, Mill wasn't happy with Wale's comments and took to Instagram to rant about the "Lotus Flower Bomb" rapper "gossiping" about him.
"N---- b doing all this to drop a new record gossiping about they h-- a-- feelings and they personal life because they miserable and nobody don't rock wit them," Mill wrote in a since deleted post. "Really stay away from me Fam! U not MMG NOMORE!"
Shortly after Mill's rant, Wale tweeted to a fan that he wasn't trying to start any drama with his label mate. "Not even close to a diss," he wrote to one fan. "Not even close."
Wale also posted a photo to Instagram of a MMG tattoo writing, "We here permanently." Eventually, Ross also commented on the drama by posting a video from Wale's Atlanta concert Wednesday night writing, "Tonight @wale tore down as @djkhaled would say 'Another One'!!! Never question THE EMPIRE #MMG."
As International Business Times previously reported, Mill is also feuding with Drake and is rumored to be recording a "Back To Back" remix.
© Copyright IBTimes 2023. All rights reserved.