Meet Netflix's 'Another Life' Cast Before Season 1 Releases July 25
Netflix will release another epic sci-fi series this week with "Another Life," and fans might recognize a few of the stars. The drama follows an astronaut leading a crew on an investigation of an alien artifact. The mission will take a dangerous turn, but first, meet the cast:
Katee Sackhoff plays Niko Breckenridge, the commander of the Salvare Space Mission. Viewers will likely recognize the actress as Starbuck from "Battlestar Galactica" or as Vic on "Longmire."
Selma Blair plays Harper Glass, a famous celebrity with a big following, and she is determined to know more about the aliens. Blair is known for big-screen roles in "Legally Blonde," "Cruel Intentions" and "Hellboy."
Justin Chatwin plays Niko's husband, Eric Wallace, who stays on Earth with their daughter. Chatwin is recognizable as Jimmy/Steve on "Shameless" as well as Goku in "Dragonball Evolution."
Tyler Hoechlin plays Ian Yerxa, Niko's second-in-command. The actor also recurs on the CW's Arrowverse shows as Superman. Previously, he played Derek on "Teen Wolf" and Martin in "7th Heaven."
Jake Abel plays Sasha Harrison, the required government employee aboard the Salvare. "Supernatural" fans recognize Abel as the third Winchester brother while "Dirty John" fans remember him as Trey.
Samuel Anderson plays the Salvare ship's artificial intelligence interface, William. "Doctor Who" fans will recognize him as Danny Pink.
Elizabeth Faith Ludlow plays Cas Isakovic, who must help the crew after they run into trouble. Ludlow played Arat in "The Walking Dead" and Lieutenant Griffin in "Godzilla: King of Monsters."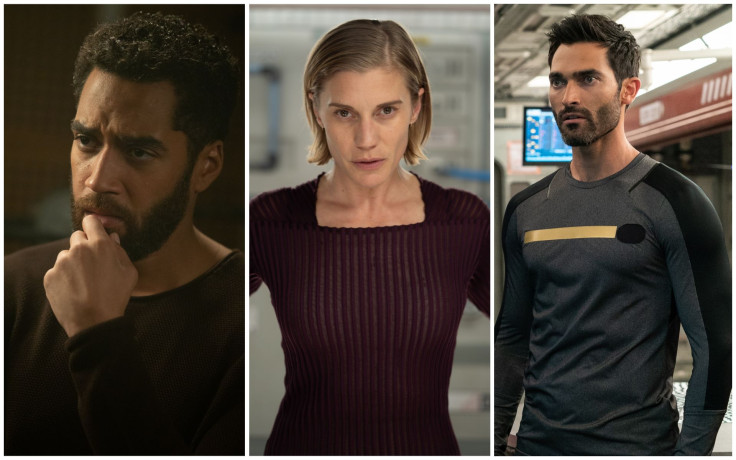 Alex Ozerov plays Oliver Sokolov, one of the ship's engineers. Ozerov is best known for his roles as Mischa on "The Americans" and Ramone on "Orphan Black."
Blu Hunt plays August, the youngest crewmember. Hunt appeared on "The Originals" as Inadu, and she'll star in next year's "New Mutants."
JayR Tinaco plays Zayn Petrossian, the ships medic and psychologist. Tinaco has appeared in "Always Be My Maybe" and "Rake."
Jessica Camacho plays Michelle Vargas, the ship's communications expert. The actress has portrayed Gypsy on "The Flash" and Santana on "Taken."
A.J. Rivera plays Bernie Martinez on "Another Life." He has also been seen in "Grandfathered," "This Is Us" and "Goliath."
Alexander Eling plays Javier Almanzar. He was previously in "Shadowhunters" and "Make It Pop."
Greg Hovanessian plays Beauchamp. The actor has starred on "The Mist" and "Cardinal."
Barbara Williams plays General Blair Dubois. In recent years, the veteran actress has appeared in "White House Down," "Mayans M.C." and "Rookie Blue."
"Another Life" premieres July 25 on Netflix.
© Copyright IBTimes 2022. All rights reserved.
FOLLOW MORE IBT NEWS ON THE BELOW CHANNELS