Meghan Markle's 'Belly Covering' Gesture Hints At Pregnancy Like Kate Middleton 'Bump-Cupping' Ritual?
Meghan Markle reportedly does one gesture that suggests that she's pregnant. Kate Middleton also has her own way of signaling that she may be expecting.
While speaking with Express, body language Judi James said that the Duke of Sussex is oftentimes seen with her hands either covering, touching, or loosely clasped in front of her belly.
Last year, Markle carried papers to cover her baby bump while she was in Australia with Prince Harry. The Duchess of Sussex did the same thing while she was in South Africa.
James said that the belly covering gesture is common among pregnant mothers, but this may not necessarily be a confirmation that Markle is pregnant. After all, she also did the same gesture after she gave birth to Archie.
"But this kind of belly-covering can also be common with new mothers, especially mums like Meghan who developed a habit of bump-cradling throughout her first pregnancy," James said.
Meanwhile, Prince Harry's wife is not the only person who is rumored to be pregnant. Middleton is said to also be expecting her fourth child.
While speaking with Express, James said that the Duchess of Cambridge is known for doing a kind of bump cupping ritual that is common throughout women's pregnancies.
"For Kate though, things are not that simple or direct. Kate's signature handclasp or clutch bag carrying poses do often include this kind of a gesture so this wouldn't be unusual for her… What is interesting is that when she chatted with Eugenie at Ascot both women seemed to be producing and mirroring this pose, which might hint at a new pregnancy in the royal family although possibly not for Kate," James told Express.
It is important to note that announcements about Markle and Middleton's pregnancies will only come from the palace and the royals themselves. All of the stories online have not been confirmed by reliable sources and must be taken with a grain of salt.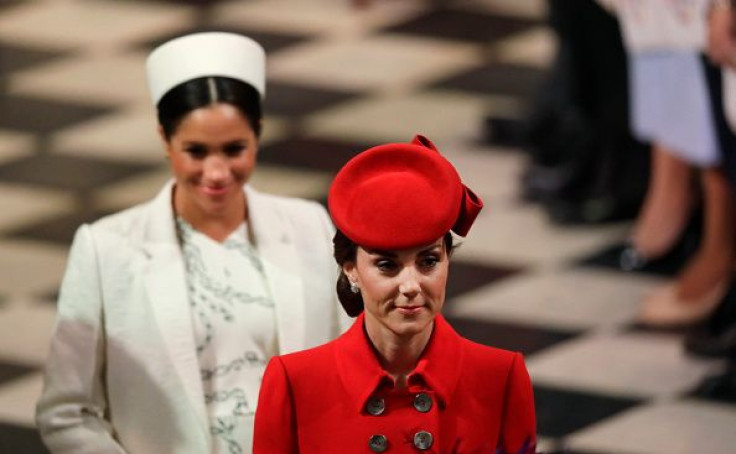 © Copyright IBTimes 2023. All rights reserved.