'In Merry Measure' Hallmark Movie Premiere: Cast, Trailer, Synopsis
Hallmark Channel's merry holiday season continues with the newest "Countdown to Christmas" holiday premiere, "In Merry Measure." The film, starring Patti Murin and Brendan Penny, premieres Friday night.
The film will be a treat for Hallmark fans, as it will be bringing some familiar faces to their television screens. Penny, who is well-known for his role as Kevin O'Brien on "Chesapeake Shores," is also a familiar face in a number of films for the network. In the last few years, he has starred in Hallmark Movies & Mysteries films like "Magical Christmas Ornaments," "A Little Christmas Charm" and "Time for Them to Come Home for Christmas." He also starred in the Hallmark Channel titles "A Dash of Love," "Summer in the Vineyard," "Pride, Prejudice and Mistletoe," "Valentine in the Vineyard," "A Perfect Christmas," "The Secret Ingredient" and "Beverly Hills Wedding."
Murin may also be familiar to fans. Though she doesn't have quite as many Hallmark titles under her belt as her co-star, she has starred in the Hallmark Channel movies "Love on Iceland" and Hallmark Movies & Mysteries film 'Holiday for Heroes."
Jennifer Robertson ("Schitt's Creek") also stars.
So what can fans expect from the film? Let's find out.
"Pop singer Darcy (Murin) is a one-hit wonder with dreams of rekindling her singing career. When her recently widowed sister Gretchen (Robinson) needs her, she returns to her Ohio hometown," a synopsis reads. "While there, she learns that her niece Megan (Cassidy Reichman) has been denied a spot on The Herald Angels, the high school caroling team that Darcy was once the star of. When Darcy learns that her old rival Adam (Penny) is now leading the award-winning team, Darcy enlists her niece to form a group of their own, and they recruit other talented singers who didn't make the cut."
This sets off a big competition, not only between the two groups of teens, but the former rivals as well.
"The two teams agree to a sing-off—whoever wins will represent the school at the county's annual Christmas Carol Competition," the synopsis continues. "The two coaches' styles couldn't be more different. Adam, who feels he has had to work hard for everything he got, holds his students to a high standard and avoids giving them false hope. Meanwhile, Darcy sees herself in her students and prefers to view their shortcomings as an 'opportunity for impressive growth.' Soon, Darcy's gentle approach helps her students to find their voices and they have a real possibility of winning the sing-off."
Both Darcy and Adam are thrown for a loop however when the groups decide to work together instead, but what starts as animosity begins to develop into something more.
"With the competition approaching, the students realize they have a better chance of winning if they combine groups, which forces the competing coaches to put their differences aside and work together," the synopsis teases. "Darcy and Adam's relationship goes from rivalry, to friendship and soon, to something more."
However, the two may be forced to find themselves considering if they have a real future in the end.
"But an unexpected opportunity threatens to upend their newfound harmony," the synopsis concludes.
"In Merry Measure" premieres Friday, Nov. 11 at 8 p.m. EST on Hallmark Channel.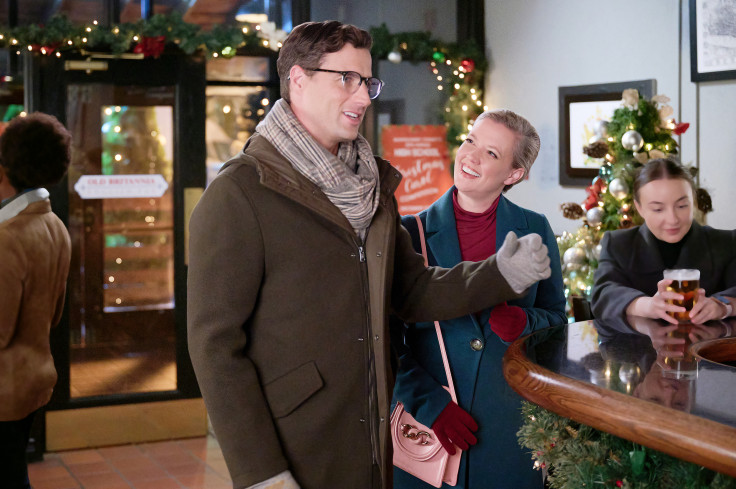 © Copyright IBTimes 2023. All rights reserved.
FOLLOW MORE IBT NEWS ON THE BELOW CHANNELS