'Merry Textmas' Lifetime Movie Premiere: Cast, Trailer, Synopsis
The Lifetime Christmas movies continue with the premiere of "Merry Textmas," starring Ariana Ron Pedrique and Rodrigo Massa, on Sunday night.
The film will be a treat for fans, as it will be their first introductions to the stars, who are big names in Mexican and Brazilian TV. Pedrique is actually best known for her roles as Paula Restrepo on "Rosario Tijeras" and Nora Diaz on "José José: El Príncipe de la Canción." As for Massa, he is well-known for roles as Richie Comance in "Like, la leyenda" and Piero Scarini in "El Dragón: Return of a Warrior."
So what can fans expect in the film, which will be the first for both on Lifetime? According to a synopsis, an accident leads to some unexpected holiday romance.
"Gaby Diaz (Pedrique) is an app developer from Austin, Texas, and the last unmarried sibling in her very close and very traditional family," the synopsis reads. "Every year, the Diaz family gathers at abuela's house in Oaxaca, Mexico, a town renowned for its '12 Challenges of Christmas,' which playfully ignites the entire town's Christmas spirit. When Gaby accidentally adds Alex Alvarado (Massa), a handsome graphic designer who's lost touch with his own Mexican roots, to the family group chat, her well-meaning family decides to secretly invite him to join them in Oaxaca for Christmas."
Now, Gaby will find that her family may use her mistake to their advantage as they try to give her the best holiday present they can—love.
"As they begin to play matchmaker for Gaby and Alex, can the Diaz family help Gaby and Alex recognize that each of them is actually the other's perfect Christmas present?" the synopsis concludes.
"Merry Textmas" airs Sunday at 8 p.m. EST on Lifetime.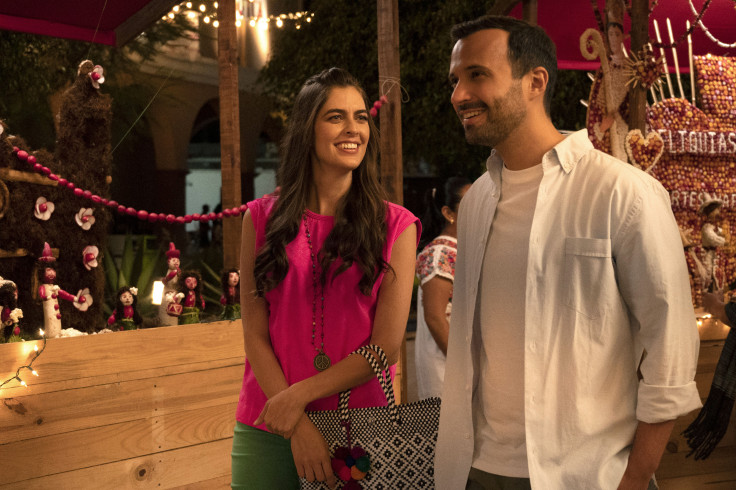 © Copyright IBTimes 2023. All rights reserved.
FOLLOW MORE IBT NEWS ON THE BELOW CHANNELS