Meta Owns The Biggest Social Media Apps By Monthly Active Users - IBT Graphics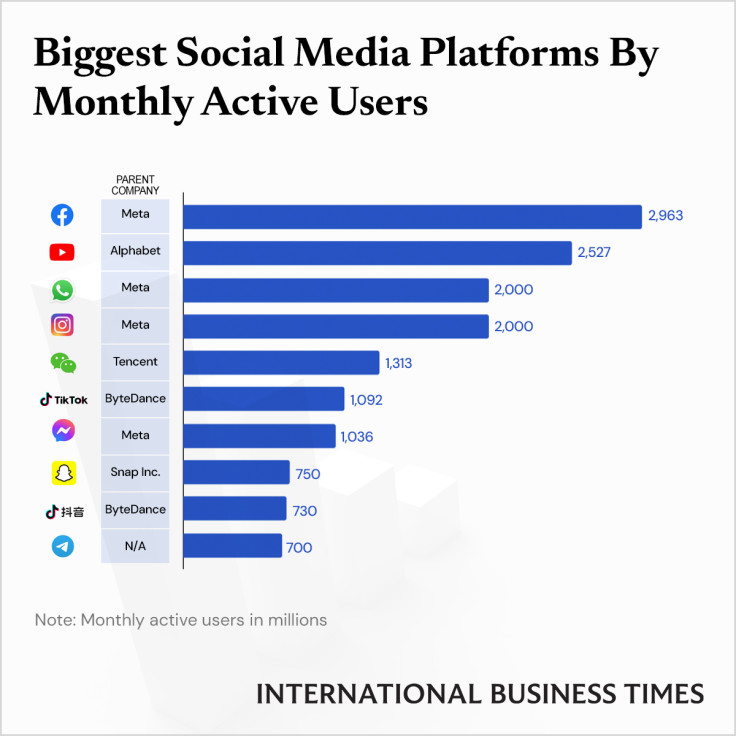 Social media users across different platforms have surged to a record 4.9 billion people worldwide. Notably, the average user spends the majority of their digital footprint every month across the top five major platforms.
Mark Zuckerberg's Meta owns at least four of the most popular social media platforms on the list.
While Meta's Facebook sees almost 3 billion active users every month at the top spot, Alphabet-owned YouTube follows closely at the second rank on the list of biggest social media platforms by active users. The video content hub boasts more than 2.5 billion monthly active users.
With Meta and Alphabet leading the ranking, the U.S. is home to the most top ranked social networks with more than 100 million users. Chinese social networks, including WeChat, TikTok and Douyin, also attracted major appeal from different age groups across various regions.
© Copyright IBTimes 2023. All rights reserved.