Method-2, A Giant Manned Robot, Can Be Yours For $8.3 Million, Maybe By Next Christmas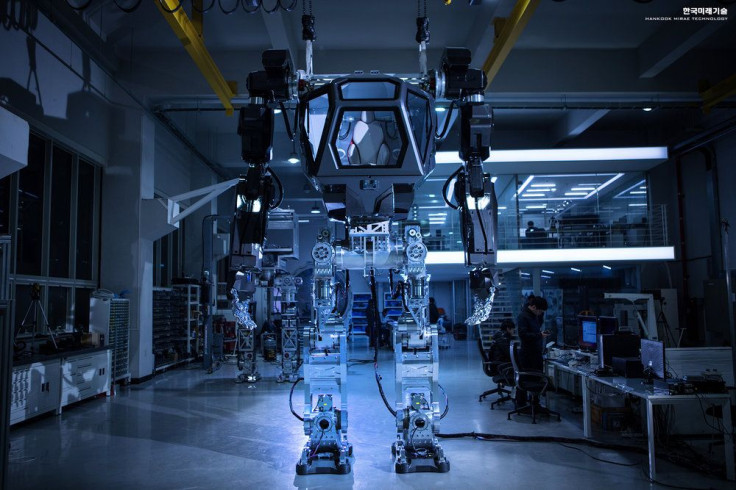 The "world's first manned bipedal robot," made by South Korea's Hankook Mirae Technology, took its first small steps in South Korea this week, and with it made a giant leap in the future of robotics.
Such robo-suits have long been a part of popular imagination through cinematic experiences in films and anime such as Iron Man, Gundam, Pacific Rim and Avatar among many more. However, at 13 feet tall (approximately 4 meters) and weighing 1.5 tons, with each metal arm weighing 286 pounds , the robot called "Method-2" is far more astounding than comparable CGI renditions.
Significantly, the creation of such a robo-suit — that gives the humans piloting them enhanced abilities — represents the revolutionary and potentially limitless applications of such a technology. With improvements, the technology could one day be used for construction and demolition work, rescue operations, or even deep sea and space exploration.
It has also been suggested that Method-2 may be deployed into the "heavily fortified Demilitarized Zone with North Korea," according to a Phys.org report. However, "the robot, tethered by a power cable and still a bit wobbly on its feet, is far from finished" the Telegraph reported.
"The robot is one year old so it is taking baby steps… Just like humans, it will be able to move more freely in the next couple of years." Yang Jin-Ho , chairman of Hankook Mirae Technology was quoted saying to the Telegraph.
Yang claimed he has invested 242 billion won ($200 million) in the project since 2014 to "bring to life what only seemed possible in movies and cartoons."
To assist Yang with the adaptation from movies and cartoons, he was assisted by designer Vitaly Bulgarov, an artist and 3D-modeler who has previously done concept designs for several major motion pictures and video games, including Transformers 4: Age of Extinction, Terminator: Genisys, Starcraft, World of Warcraft and Diablo. His most recent work will be seen soon in the live-action movie version of Ghost in the Shell (2017).
Yang hopes to make Method-2 commercially available and has provisionally priced it at about 10 billion won (around $8.3 million) and expects the robot to be in the market by the end of 2017.
© Copyright IBTimes 2023. All rights reserved.
FOLLOW MORE IBT NEWS ON THE BELOW CHANNELS