MH17: Fifty Australian Police To Help UN Team Secure Crash Site; More Bodies To Reach Netherlands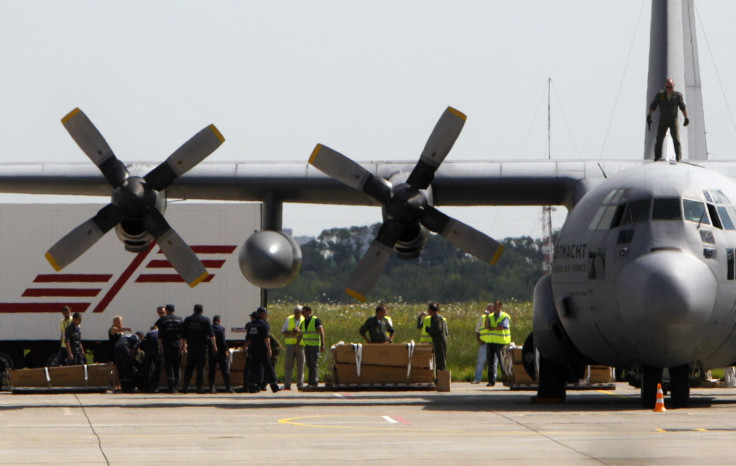 The Australian government has sent 50 police officials to London, where they will join a U.N. team to travel to eastern Ukraine to help secure the crash site of Malaysia Airlines Flight MH17, keeping in mind the vulnerability of the area, even as an operation to airlift bodies to the Netherlands continued for a second day.
More than 200 bodies have been recovered so far from the crash site, but officials fear some remains may never be recovered unless the area, which is a hotbed of strife between pro-Moscow separatists and Ukrainian government forces, is secured. On Thursday, two more military transport planes, loaded with the remains of about 74 other victims of Flight MH17, are bound for the Netherlands, for identification, before they are handed over to family members and relatives.
"We are ready to deploy Australian police to Ukraine to help secure the site as part of an international team under United Nations authority," Australian Prime Minister Tony Abbott said, according to Associated Press.
According to The Sunday Morning Herald, an Australian newspaper, Abbott said that he "would be very careful about putting any Australian personnel into harm's way."
He went on adding: "President Putin does think it is important that the site is secured by international police so that the thorough, impartial international investigation that the UN called for and that we all think is necessary can go ahead.
"The difficulty at the moment is that that site is controlled by armed men with a vested interest in the investigation."
The exact details about the role the Australian police will play at the area are yet to be determined, and it was also not clear if these officers would be armed or not.
Meanwhile, Ukraine's government reportedly said that the military planes are set to fly out Thursday from the government-controlled city of Kharkiv with 51 coffins, containing the bodies and other remains of the victims, adding that the entire process of bringing all the bodies out of Ukraine could take at least until Friday.
On Wednesday, the first 40 bodies had arrived at Eindhoven airport in the Netherlands and the identification process is yet to begin, while, according to BBC, the contents of the coffins will be examined by a team of Dutch forensic scientists.
© Copyright IBTimes 2023. All rights reserved.