Mia Farrow Shares Regrets, Issues Surrounding Split From Woody Allen
KEY POINTS
Mia Farrow's great regret in her life was bringing Woody Allen into her family
Farrow noticed that Allen was very affectionate toward Dylan that it scared her away
Allen got angry when Farrow confronted him about his treatment toward Dylan
Mia Farrow got candid about her regrets on bringing Woody Allen into her family and how things changed big time for them due to the American director.
Farrow opened up about her relationship with Allen and how her daughter Dylan's sexual abuse allegations against the director rocked her world in the docuseries "Allen v. Farrow." Farrow admitted that bringing Allen into her family was her greatest regret.
"That's the great regret of my life, that I wasn't perceptive enough. It's my fault. I brought this guy into my family. There's nothing I can do to take that away," she was quoted by People as saying. "I get why people can't believe it because who on Earth could believe that of Woody Allen? I couldn't believe it. I couldn't believe it. Everybody admired Woody so much, loved him, and I did too."
Farrow was already a mother to seven children before she met Allen — twins Matthew and Sascha Previn, Lark Song Previn, Fletcher Previn, Summer "Daisy" Song Previn, Soon-Yi Previn and Moses Farrow.
Farrow approached Allen about conceiving their own child and the latter agreed on the condition that he could still come and go as he pleased and without parental attachments. But they couldn't conceive, so Farrow suggested that they adopt. Allen assured him adoption won't ruin their relationship, but he didn't like to have something to do with it.
Farrow adopted a blonde girl, Dylan. She later conceived their child, Ronan Farrow, after Dylan's adoption. However, at the time, she noticed Allen's unusual behavior toward Dylan. He allegedly didn't want to see the kids except Dylan and he showered her with "intense affection" that it scared her away and Dylan would hide from him when he was around. Farrow got uncomfortable with the way he treated Dylan and when she confronted him, he got angry.
"It was as if I'd accused him of being an ax murderer," Farrow said in the docuseries. "I was crying and I apologized. And sometimes he would say, 'I honestly think you need help.' And I began thinking, 'I must be crazy. He can't be a pedophile.' I wanted to believe that he was not capable of what I feared."
She was only convinced that something was wrong with Allen's treatment to Dylan when Dr. Ethel Person, a psychiatrist from New York City, said, "There was something off" with the way Allen greeted Dylan. Allen agreed to meet a psychologist who assured Farrow that while the behavior was inappropriate it was not sexual.
Allen legally adopted Dylan and Moses in December 1991. But to Farrow's shock, she found out pornographic polaroids of her adopted daughter, Soon Yi-Previn, in Allen's apartment. He testified in court in 1993 that their sexual relationship started in 1991 a few days after Christmas. He was 56 while she was 21 at the time.
On Aug. 17, 1992, Allen confirmed his relationship with Previn saying, "It's real and happily all true." He also addressed Farrow's child abuse accusations calling it "false" and "outrageous," Bustle reported.
Farrow and Allen were introduced in Manhattan in 1979. Their relationship ended when Farrow found out Allen's collection of Previn's sexual pictures in 1992. However, according to Previn, Allen and Farrow were no longer together when she started getting close with the director.
"When I first got friendly with Woody, he and Mia were finished with their romance," Previn said about her relationship with Allen. "I think Mia would have been just as angry if he had taken up with another actress or his secretary."
Previn claimed Farrow was "violent" to her and the assault allegations against Allen were "ridiculous." On Dec. 23, 1997, Allen and Previn tied the knot.
"Allen v. Farrow" aired its premiere episode on HBO Sunday.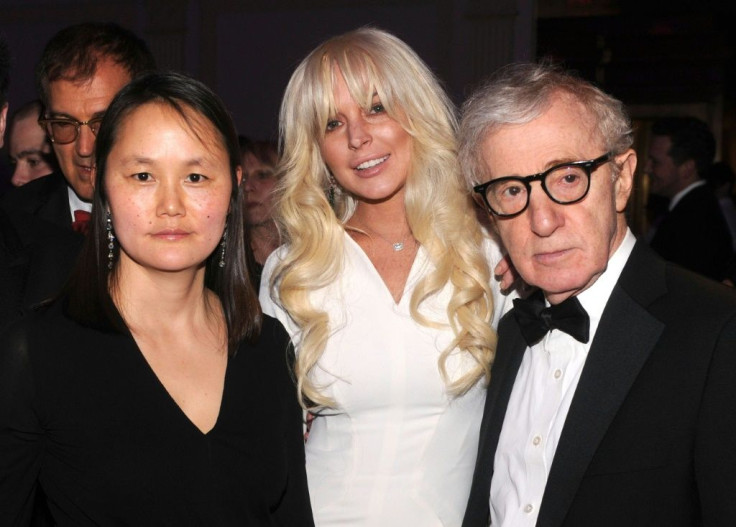 © Copyright IBTimes 2023. All rights reserved.