Microsoft Band 2 vs. Apple Watch vs. Fitbit vs. Jawbone: Microsoft Takes Second Stab At Fitness Tracking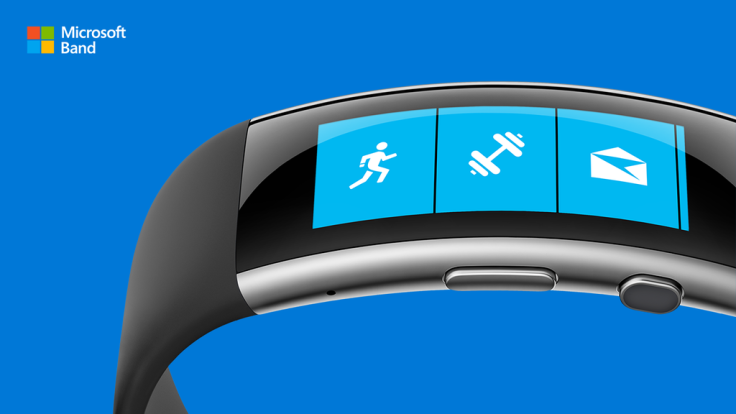 Microsoft is back for its second attempt at the fitness tracker with a redesigned Microsoft Band. But it returns in an increasingly crowded market, filled with the likes of Apple, Fitbit, Jawbone and many others.
Here's how the Microsoft Band stacks up against some of the fitness trackers and smartwatches available for purchase.
Display
The Microsoft Band 2 ditches the flat screen of its predecessor and comes with a Corning Gorilla Glass 3 covered OLED touchscreen that curves around the wrist. In comparison, the Apple Watch sports a 312-by-390 pixel resolution AMOLED display with curved edges. The Fitbit Charge HR goes with a tiny and minimal monochrome display used for showing the time, current heart rate and doubles as a caller ID. The Jawbone UP4 foregoes a display entirely, relying on companion apps and smartphones to view the activity data it collects.
Winner: tossup between Apple and Microsoft
Mobile Payments
Microsoft Band doesn't come with near-field communication for mobile payments. Instead it relies on apps from Starbucks, Subway and other vendors for limited in-store payment support. And the Fitbit Charge HR has no support for mobile payments at all.
Apple Watch has the advantage in this regard with Apple Pay, which works with hundreds of major credit cards in the United States. The U.K. Jawbone's UP4 has a more basic form of tap-to-pay mobile payments, which works with American Express cards.
Winner: Apple
Fitness Tracking
At their core, all four devices come with fitness tracking features such as heartrate monitors and step counters. The Microsoft Band takes it a step further with UV exposure tracking, oxygen consumption and built-in GPS. Microsoft Band, UP4 and Charge HR also have built-in sleep tracking features. While the Apple Watch doesn't have an app built-in to do this, the function can be added through third-party apps on the App Store.
Winner: Microsoft
Personal Assistant
Microsoft Band also comes packed with Cortana voice assistant support, for those times you need reminders to exercise or about an upcoming appointment. The Apple Watch has its own equivalent, Siri, which can be used to control watch functions, send messages or make phone calls. Jawbone and Fitbit's products don't have any personal voice assistant.
Winner: tossup between Microsoft and Apple
Battery
At up to 48 hours of battery life, the Microsoft Band 2 isn't the longest lasting of the bunch. But neither is it the weakest. That title belongs to the Apple Watch which typically requires a charge every night. The Jawbone UP4 leads the pack with seven days of battery life, followed by the Fitbit Charge HR with 5 days of battery life.
Winner: Jawbone
Price
The Microsoft Band is in the middle of the bunch with a price of $249, $100 less than the starting price of the Apple Watch Sport. The Jawbone UP4 comes right below the Band at $199 and the Fitbit Charge HR is the cheapest of the bunch at $149.
Winner: Fitbit
Microsoft began taking preorders for the Microsoft Band on Tuesday, which will be followed by shipments on Oct. 30.
© Copyright IBTimes 2022. All rights reserved.
FOLLOW MORE IBT NEWS ON THE BELOW CHANNELS