Microsoft Launches Redesigned Outlook.com Beta With Smarter Inbox, Emoji & GIF Support
Microsoft has launched its new Outlook.com beta. The company's email service has been given a redesign and packed with new modern features —some of which might end up being permanent.
"Today, we're launching the Outlook.com beta, an opt-in web experience where you can try out new product innovations and let us know what you think," Microsoft said on its Office Blog. "Recent advances in programming, design, and artificial intelligence have enabled our engineers and designers to improve the Outlook.com web experience in several areas—and we're eager to get your feedback."
All users will be able to try out the new Outlook.com beta by simply activating it through the new "try the beta" toggle located on the top-right portion of the page. This toggle is currently being rolled out to all users, and everyone should be able to try it out "in the next few weeks."
READ: Why Microsoft Is Looking At Artificial Intelligence For Its Corporate Business​
Microsoft says that it has implemented a faster user experience for the Outlook beta by using a more responsive web development framework. This is also why Outlook.com appears to have been given a redesign.
One of the biggest changes in the Outlook website is that it now features a smarter email inbox. Outlook.com beta can now offer Quick Suggestions as users start typing an email. For example, a user may type a name of a restaurant and a Quick Suggestion will pop up showing the restaurant's details.
The idea here is to make it easier and faster for people to add more information in their emails. Quick Suggestions will also work with flights, sports schedules and others.
Photos sent or received in the user's email are also a bit more organized in the Outlook.com beta. All photos will now be grouped under one place, so users can easily save and or share them in an email. Furthermore, Microsoft added a new user interface for quickly managing and previewing photos and other attachments.
Microsoft also added better personalization in the Outlook.com beta. Now, users will be able to tag people and folders as favorites. This makes it easier to find friends, emails and files, according to The Verge.
READ: Microsoft Begins Selling Mixed Virtual Reality Headsets From HP, Acer​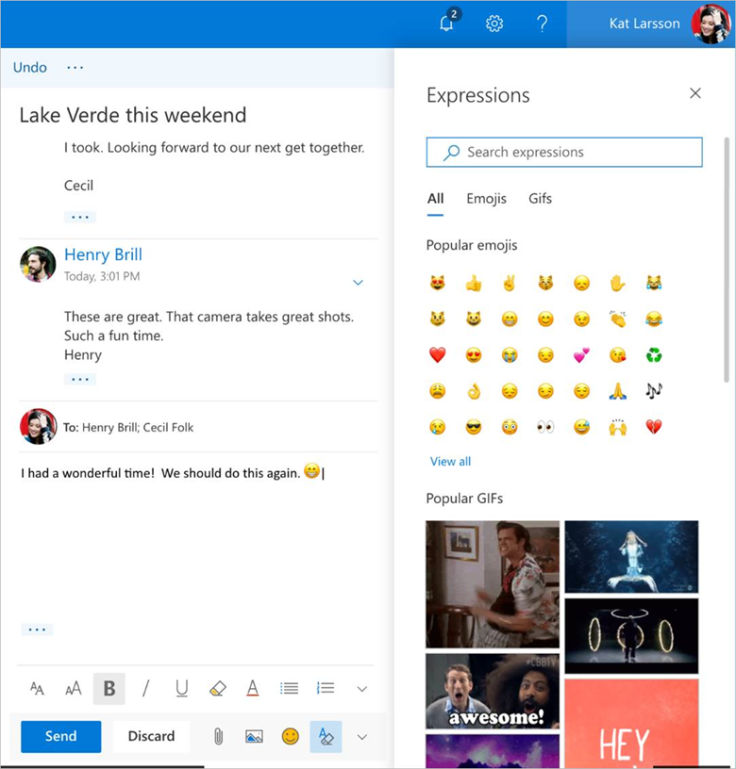 Emojis and GIFs are becoming more ubiquitous as time goes by. This is also why Microsoft decided to add support for Emojis and GIFs right in the Outlook.com beta. Users will be able to search for emojis and GIFs using the new search bar for "expressions."
Microsoft says that it will also keep adding enhancements to the Outlook.com beta over the next few months, and it also teased that its Calendar and People sections will get updates. "Based on your feedback, we'll iterate, improve, refine, or discard them. At the end of the beta, we'll bring the best innovations into Outlook.com," Microsoft said.
This new Outlook.com experience is an opt-in feature, which means that users can simply toggle it off if they want to keep using the current version of the email service. However, users should expect some of these new features to become permanent if they are received well enough.
© Copyright IBTimes 2023. All rights reserved.
FOLLOW MORE IBT NEWS ON THE BELOW CHANNELS