Microsoft To Release Visual Studio For The Mac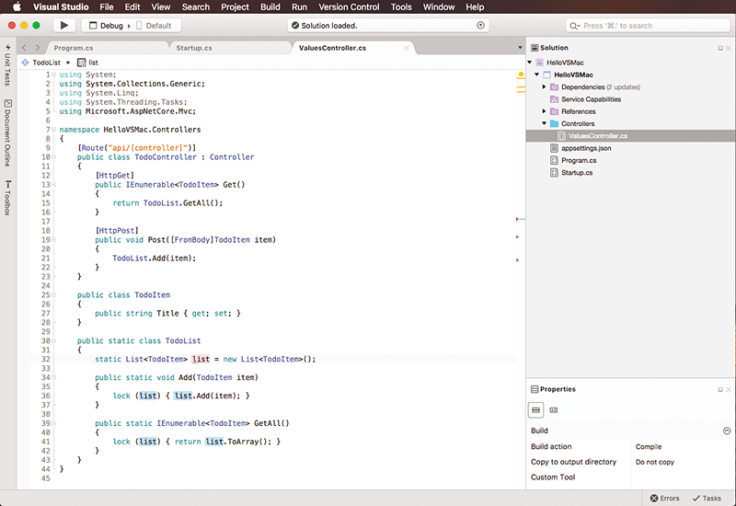 Microsoft announced Visual Studio is coming to MacOS, and will be introduced later this week at the Microsoft Connect Conference in New York City.
Visual Studio for Mac will be based on Xamarian Studio, which is pretty known for C# ID# for OS X. Microsoft acquired Xamarian in a deal earlier this year which is said to be worth around $500 million.
Microsoft has been playing with other platforms. In 2014, Microsoft launched a port of the .Net Core Framework to MacOS.
If anything, this proves there's a ton of culture change happening within Microsoft. It shows the company is well aware of the fact that the old strategy is no longer able to lock its users to Windows 10.
According to the release,
"At its heart, Visual Studio for Mac is a macOS counterpart of the Windows version of Visual Studio. If you enjoy the Visual Studio development experience, but need or want to use macOS, you should feel right at home. Its UX is inspired by Visual Studio, yet designed to look and feel like a native citizen of macOS. And like Visual Studio for Windows, it's complemented by Visual Studio Code for times when you don't need a full IDE, but want a lightweight yet rich standalone source editor."
The news follows a previous announcement from earlier this year, which the company announced it is adding support for Linux command lined Bash to Windows for the first time. Microsoft's Scott Hanselman said, adding Bash support was "brilliant for developers that use a diverse set of tools- so launching Visual Studio for Mac is a great move.
Though Microsoft removed the original blog post, you can find the cached version here.
You'll be able to download a preview edition of Visual Studio for Mac during Microsoft's Connect ()Conference, which is on Nov. 16.
© Copyright IBTimes 2023. All rights reserved.