Microsoft Windows 8 Release Date Announced: New OS To Be Made Available On Oct. 26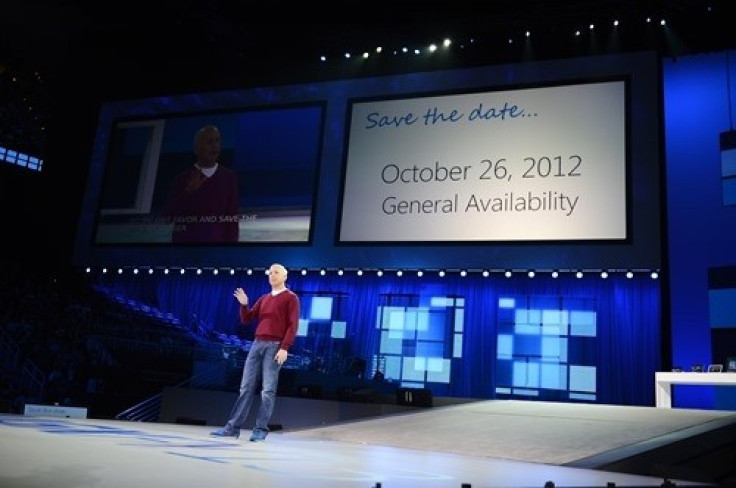 Microsoft Windows 8, deemed as the Redmond company's most critical software upgrade in a decade, will be available, whether in upgrade fashion or on a new PC, starting on Oct. 26.
Steven Sinofsky, Microsoft's head of Windows, announced during the company's annual sales meeting Wednesday that the new version of the Windows will begin retailing on Friday, Oct. 26. Following the announcement, the news was shared by the official Windows blog.
According to Microsoft, owners of PCs running Windows XP, Windows Vista, or Windows 7 will qualify to download an upgrade to Windows 8 Pro for just $39.99 in 131 markets. Users will also be able to purchase a packaged DVD version of the upgrade to Windows 8 Pro that will be available for $69.99 during this promotion. This upgrade promotion for Windows 8 Pro, both online and at retail, runs till Jan. 31, 2013.
Earlier this month, Tami Reller, chief marketing officer of Microsoft's Windows division, told attendees at the Microsoft Worldwide Partner Conference that Windows 8 would be made available in October. Tami confirmed that Windows 8 was scheduled to Release to Manufacturing (RTM) the first week of August.
According to Redmond Pie, while the Metro UI helps bring a fresh look and feel into a more contemporary state, the Live tiles offer a new take on the OS' functionality.
The Surface, which looks like a tablet-ultrabook cross, can offer full-on Windows 8 capabilities, and since the Metro interface seems the perfect complement to a touch-based device, there's likely to be something of a frenzy when the slate, which as yet, doesn't have a price or release date, finally hits the market, the report added.
Windows 8, along with a new version of the popular Office software that Microsoft announced it would soon launch, are major shifts for the company, as online software and storage and mobile devices weaken the company's core franchise making software to install on PCs and operate computer networks, reported The Wall Street Journal.
Apple's iPhone and its ability to browse the Web delivered the first blow to the laptop PC and now its iPad is weakening Microsoft's fundamental hold on the PC for business computing, the report said. Windows 8, for both PCs and tablet computers, is Microsoft's response.
Windows 8 is the start of Microsoft's effort to respond to market demands and competitors, as it provides a common interface and programming API set from phones to servers. It is also the beginning of the end of Win32 applications on the desktop, said Michael Silver, the vice president and distinguished analyst at Gartner.
According to Gartner, the worldwide tablet market is expected to double in size, with sales of 118.9 million units this year. Apple's iPad is expected to account for a little less than two-thirds of the total sales figure, while devices running Google's Android operating system are expected to account for nearly a third.
© Copyright IBTimes 2023. All rights reserved.