Microsoft Xbox One Release Date: One Tour Offers Gamers Chance To Play New Xbox Early
Microsoft (NASDAQ:MSFT) has loaded up a motorcade of customized SUVs to take the Xbox One on an international tour, leading up to the console's release date. Known as the One Tour, the event will give gamers the ability to test drive the new Xbox One before its official release.
The Xbox One Tour will visit 75 different cities including Chicago, New York and Paris from October until the end of the year. The "Area One" trucks visiting the U.S., Canada and Europe will allow for hands-on gameplay of the Xbox One.
The Xbox One Tour is stopping at Atlanta, Georgia and Newcastle, England, this weekend, but the free event is only open to gamers 18 and older. The Xbox One trucks have several launch titles available to play, including "Killer Instinct," "Dead Rising 3" and "Forza Motorsport 5."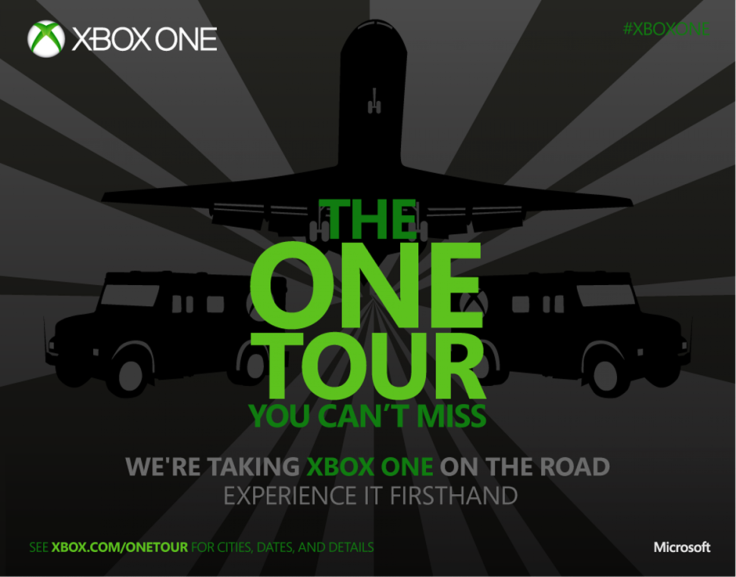 The Xbox One is priced at $499 in the U.S., €500 in Europe and £429 in the U.K. Microsoft has improved on the previous-generation Xbox 360 by beefing up the specs of the Xbox One, including an 8-core CPU, upgraded graphics chip, 8GB of RAM (DDR3), a 500GB hard drive and a blu-ray player.
While Xbox One gamers will not be able to play alongside their Xbox 360 counterparts, Microsoft hinted that it may offer interactivity with PC versions of certain titles. Players who purchase Xbox 360 versions of upcoming titles like "Call of Duty; Ghosts" will be able to upgrade to Xbox One versions for an upcharge of $10 at various retailers.
Microsoft will release the Xbox One on Nov. 22 in 13 different markets, including the U.S., Canada, U.K., Italy, Mexico, Austria, Germany, France, Brazil, New Zealand and Spain. Microsoft delayed the Xbox One release date in a few other countries where it initially had announced a Nov. 22 release date:
"We remain committed to launching Xbox One in Belgium, Denmark, Finland, Netherlands, Norway, Russia, Sweden, Switzerland, as soon as possible in 2014."
Microsoft has not announced a new release date for the Xbox One in affected markets, but is offering those who pre-ordered the console a free game. The company has been criticized for policy decisions following the Xbox One's announcement, including limitations on the sale of used games and a mandatory online check-in every 24 hours, which it has since reversed.
One gamer used the opportunity to take some footage of the Xbox One's new dashboard.
© Copyright IBTimes 2023. All rights reserved.