Midterm Election 2014 Polls Show Republican Senate Candidates With Momentum In Battleground Races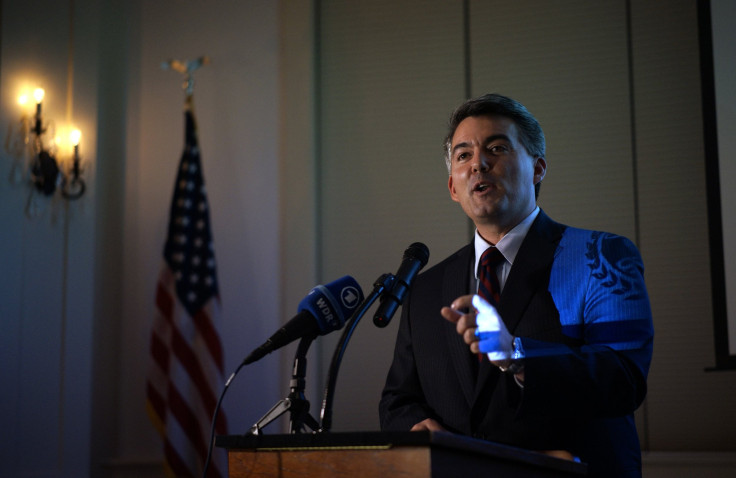 Republicans would take control of the U.S. Senate if the 2014 midterm elections were held now, according to a series of polls released Sunday of five of the most closely contested races. But the GOP leads are less than the polls' margins of error, meaning a Republican takeover of Congress is far from certain.
The GOP gained the most ground in North Carolina, where an NBC News/Marist Poll showed Republican candidate Thom Tillis tied with Democratic Sen. Kay Hagan. Other polls conducted last week showed Hagan with a three-point lead over Tillis, according to Real Clear Politics.
"Up until this point, incumbent Hagan has been considered the strongest Democrat among the so-called Democratic firewall states in this election cycle," said Lee Miringoff, director of the Marist College Institute of Public Opinion. "Now, this is a contest that could go either way, and the outcome may determine control of the Senate."
Republicans need to defend all their Senate seats and flip six Democratic seats to gain control of the Senate. (Vice President Joe Biden, as president of the Senate, would keep the Democrats in control in the event of 50-50 tie.) And if they lose any seats they currently hold, like Georgia, Kentucky or Kansas, they'll need to win more Democratic seats.
In Colorado, Republican Rep. Cory Gardner has a one-point lead over incumbent Sen. Mark Udall, 46 percent to 45 percent, according to an NBC News/Marist Poll. Gardner had a 12-point advantage over Udall among early voters. Polls conducted over the last month show Gardner with an average 2.8 percent lead, according to Real Clear Politics.
"To seal up the potential crack in the Democratic firewall for the U.S. Senate, Udall needs a big ground game," Miringoff said. "He trails among those who have already voted by 12 points."
In Iowa, the race to replace retiring Democratic Sen. Tom Harkin remains tight, with Republican Joni Ernst with a three-point advantage over Democrat Rep. Bruce Braley, 49 percent to 46 percent. An NBC News/Marist Poll from September showed Ernst with a two-point lead, 46 percent to 44 percent.
Neither candidate is making a very favorable impression with voters. More people view Braley negatively -- 46 percent -- than positively, while Ernst's favorable/unfavorable ratings both sit at 44 percent. The race is listed as a tossup on Real Clear Politics, which reports Ernst has an average lead over Braley of 2.2 percent in the six most recent polls on the Iowa Senate race.
"The campaigns have taken a toll on both Senate candidates, who have unusually high negatives for non-incumbents," Miringoff said. "The GOP is chomping at the bit over the prospect of picking up a Senate seat the Democrats have held for 30 years in a state President Obama carried twice."
Republicans also have a lead in Arkansas, where GOP Rep. Tom Cotton has a two-point lead over Democratic incumbent Mark Pryor, 45 percent to 43 percent. The NBC News/Marist Poll also found Cotton's favorability rating rose to 46 percent from 44 percent in September while Pryor's negatives climbed seven percentage points -- from 42 percent last month to 49 percent.
"The good news for the Democrats is that incumbent Mark Pryor remains competitive in a state Mitt Romney carried by 24 points," Miringoff said. "But, twice the number of Pryor's backers, compared with Cotton's supporters, say they might vote differently, and Pryor has higher negatives than Cotton. In fact, Pryor's rating, unlike Cotton's, is upside down."
In Kansas, Democrats' hope of flipping a Republican seat is dimming after an NBC News/Marist Poll found independent Greg Orman's 10-point lead over incumbent GOP Sen. Pat Roberts slipping to a 1 percent advantage. The latest poll, conducted between Oct. 18 and Oct. 22, showed Orman leading Roberts, 45 percent to 44 percent. Orman has said he would caucus with whichever party holds the majority after the 2014 midterm elections.
"There's nothing like the possibility of a U.S. senator from Kansas caucusing with the Democrats to make some voters rethink their choice for Senate," Miringoff said. "Orman's initial double-digit lead over Roberts has evaporated, and the contest is now a tossup."
Kansas has not elected a Democrat to the Senate since 1932.
© Copyright IBTimes 2023. All rights reserved.