Midterm 2014: Kentucky, Massachusetts, Georgia, Kansas, New Hampshire Races To Watch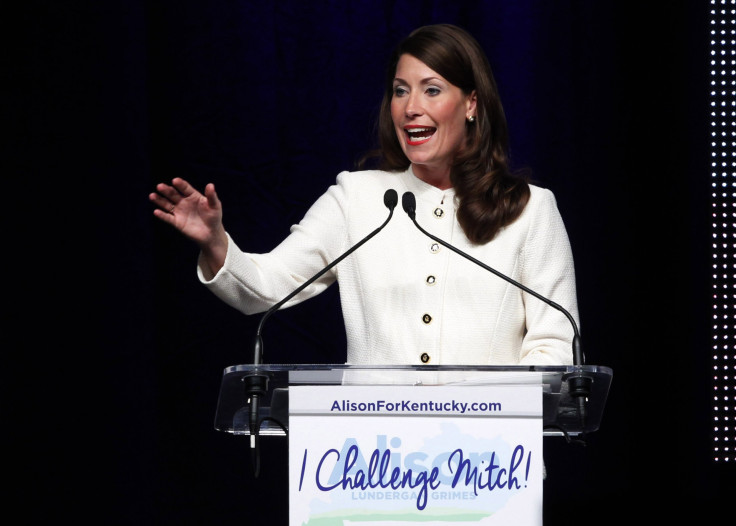 With 11 days to go until the U.S. midterm elections, many races are coming down to the wire. From New Hampshire to Kansas, the last days of the campaign could determine which party controls the Senate and governor's mansions. (The House is certain to remain in GOP hands.) In many contests, a last-minute gaffe or big television ad buy could make the difference. Here are some states to watch closely in the final week.
Kentucky Senate
Democrats would like nothing more than to bring down Senate Minority Leader Mitch McConnell. And as challenger Alison Lundergan Grimes remains close, Democrats are beginning to salivate.
The Democratic Senatorial Campaign Committee announced this week that it was reserving $650,000 in television advertisements for the last sprint, after months of showing little interest in investing in Kentucky and only a week after seeming to give up on Grimes.
Grimes' fight is garnering buzz around the country. Bill Clinton campaigned for her earlier in this week. But McConnell is a ferocious campaigner and has been inexhaustible this cycle, traveling the state to talk about jobs and the economy. Friday he released an ad criticizing Grimes' father's burger restaurant for workers low pay. "That's hypocrisy. That's Alison Grimes," says the narrator.
This race is an unpopularity contest between the state's GOP Senate incumbent and the nation's Democratic president. McConnell continually ties Grimes to Barack Obama, describing her as the president's "cheerleader." The Grimes campaign rolled out an ad that said McConnell "will say anything" to get elected. It included a leaked audio of him telling a Koch brothers-backed fundraiser that he won't permit the Senate to debate a minimum wage hike, student loan relief or an extension of unemployment benefits.
With the money flowing into both campaigns, the last week could bring some of the strongest attacks yet.
Georgia Senate
Georgia has long been considered a safe state for Republicans. The last time a presidential candidate won the state was Bill Clinton, once.
So when Michelle Nunn declared for the open Senate seat in Georgia, few thought that even the daughter of popular former senator Sam Nunn stood much of a chance. The large Republican field was narrowed down to David Perdue, who edged out several more conservative members of Congress and the establishment-backed Rep. Jack Kingston.
But Nunn is proving to be a formidable candidate, and polls in the past week show her holding a narrow lead.
What moved the needle? Perdue's ads backfired. He launched a series of attacks suggesting that Nunn had terrorist ties for her role as the head of Points of Light, a nonprofit organization started by former President George H.W. Bush. Neil Bush, the former president's son, even stepped up to defend Nunn.
To win, Nunn needs minority voters to turn out at presidential election levels. Perdue will be working to boost his base. The Tea Party Patriots -- who opposed Perdue in the primaries -- finally endorsed him on Friday, citing the importance of holding the seat for the GOP.
And the race may not be over in November. Georgia requires a candidate to receive a simple majority. Because of Libertarian Amanda Swafford, who is currently getting about 5 percent of the vote, it's likely neither Nunn or Perdue will get the needed 50 percent. A CNN poll found Nunn still holding an advantage in a hypothetical runoff.
Georgia Governor
As in the Senate race, even after Georgia Democrats recruited a top-notch candidate, few thought Jason Carter, grandson of former President Jimmy Carter, stood much of a chance. But polls show him within striking distance of Republican Gov. Nathan Deal.
Deal and Carter are likely to affected by the Senate campaign's trend, but they are also working to differentiate themselves from their ticket mates.
At a religious forum on Wednesday, Carter discussed his support of a Georgia law that allowed residents to carry guns into some churches – but also allowed others to opt out and ban weapons.
Unlike other gubernatorial campaigns which have waded into federal issues like immigration and the Affordable Care Act, the Georgia candidates have stuck to jobs and the economy.
New Hampshire Senate
Republican Sen. Scott Brown lost re-election in Massachusetts in 2012, moved to New Hampshire and challenged incumbent Democrat Jeanne Shaheen. It seemed like a long shot, given Democratic accusations that Brown was a carpetbagger shopping for a Senate seat.
But with days left in the campaign, Brown is within the margin of error in several polls.
Brown has stepped up his attacks on Shaheen for being too close to President Barack Obama. The two have sparred over immigration, ISIS, terrorism and energy.
Republicans hadn't expected a chance to pick up a seat in New Hampshire. Now they're energized.
Kansas Senate
Kansas is one of the reddest states in the nation. But incumbent Republican Sen. Pat Roberts is at risk of being the biggest upset of the election cycle. He won't lose to a Democrat; nominee Chad Taylor essentially ended his campaign in September. But challenger Greg Orman, an independent, is proving that Republicans can't count red states as easy wins.
Polls are all over the place, showing Orman and Roberts swapping the lead.
Roberts is beefing up his campaign operations in the final days. Mitt Romney and longtime Kansas Sen. Bob Dole, who remains popular in his home state, are headed to a campaign rally next week. The GOP has already sent in heavy hitters including Jeb Bush, Sarah Palin, Ted Cruz and Rand Paul. Even reality TV's Duggar family has showed up to campaign for Roberts.
Orman has spent most of the campaign doing low-key events, with almost no large rallies or big speeches. Instead, he's held invite-only or intimate events to win support from voters. He's also taken few policy positions, casting himself as a business professional instead of political insider. He hasn't said which party he would caucus with, should he win -- and is seeing donations pour in from a variety of donors, including liberals.
In the final days of the campaign, expect Roberts campaign to launch a full-force attack on Orman.
Massachusetts Governor
It's not just red states where the dominant party finds itself in trouble. In deep-blue Massachusetts, Republican Charlie Baker has pulled ahead of Democrat Martha Coakley, with polls showing an average 4.5 point lead.
A poll on Friday shocked the state and political observers when it showed Baker with a 9 point lead. This isn't Baker's first run at governor; he ran unsuccessfully in 2010 against sitting Gov. Deval Patrick.
In the most recent debates, Baker has been pressured to urge New Jersey Gov. Chris Christie, head of the Republican Governors Association, to release documents relating to a pay-to-play investigation of Baker that has been going on for months. Coakley said Baker may be "in violation of the law."
National Democrats are trying to help. Hillary Clinton and Sen. Elizabeth Warren are campaigning for Coakley this week, and the party is pouring in resources to try to pull her ahead.
© Copyright IBTimes 2023. All rights reserved.